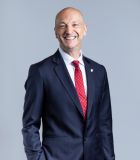 Mr Marc Morris
Chief Education Officer
Marc's attraction to China and Asian culture generally stretches back to his first days as a history undergraduate at Leeds University where he gained an interest in modern China, the history of which eventually accounted for a major part of his studies. His career on leaving university did not bring him to the East, however, but fast-tracked him through school curriculum roles in UK schools to bring him to the first of his four headships in his mid-thirties.
In all four schools that he has led (a High School, a Technology College, a Grammar School and an International School) Marc has successfully raised academic standards by building staff capacity and creating a culture that supports and celebrates excellence across all ages. He understands the pressures that school leadership brings, having engaged in restructuring and new-start projects, overseeing all aspects of these developments from financing through design and into realisation.
Marc is a child-centred educator and by no means a remote educational leader. He engages with students at all times putting their needs first whether in the classroom, as a contributor to the co-curricular programme, or on expeditions. He is committed to achieving educational excellence and has a track record for creating culture that supports this across all areas of school life.
---