Our Alumni Rock | Monica Chan, Class of '13

Since our founding in 2003 and graduating our first class in 2009, we have launched hundreds of graduates into dynamic careers all around the world. Our strong and well-connected alumni network truly sets us apart from other international schools.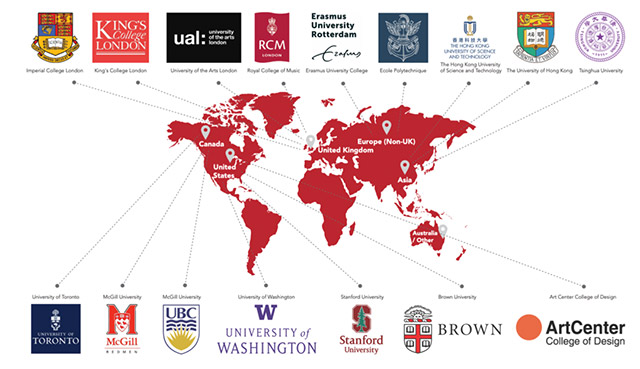 A selection of our university matriculations
This term we launched Dulwich Pudong Alumni Talks where we invite selected alumni to share their first-hand experience with current students and parents covering topics such as:

Advice on navigating the IB
Tips on college applications
Insights into the transition to college
Networking opportunities and career advice
How to find and cultivate mentors
Inspiration from people who've been through it and succeeded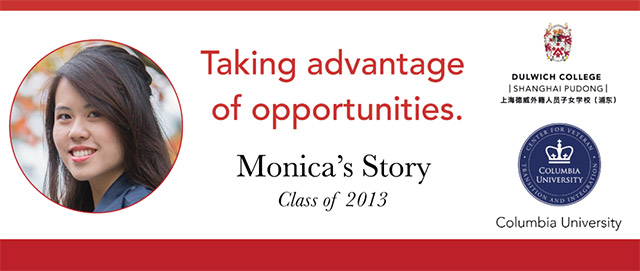 Our first speaker was Monica Chan, Class of '13, Stanford University undergraduate and current Columbia University Doctoral student who spoke on: "Taking Advantage of Opportunities." Our parents and students were thrilled to hear Monica's personal story and have their questions answered live.
Let's meet Monica.
Dulwich Pudong Alumni Monica
Class of 2013
When Monica Chan went off to Stanford, she brought one important thing with her - a hard copy of her IB Mathematics Extended Essay in which she modeled the SARS virus. Because she didn't know much computer programming at the time, she faced the difficult task of computing all the differential equations by hand.
She recalls, "Whenever I hit something really hard, really challenging in college, I would pull (my Extended Essay) out and say to myself 'I've done something even harder before.'" That helped her keep everything in perspective.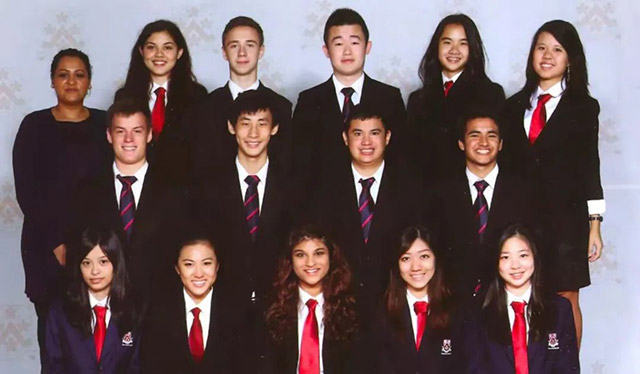 Monica's Year 13 class photo in Dulwich Pudong, 2013
She would never have been in a position to make this achievement without the support of her DCSPD Maths teacher, Mr Jimmy Mao. Transferring to DCSPD at the start of Year 13 meant there were inevitably some gaps in her IB programme. In maths, for example, she hadn't covered vectors while her classmates had already moved on to statistics and probability.
Mr Mao made the time to stay after school with her for the first couple of months, giving her 1-to-1 tutoring to get her on track. "I didn't think much of it back then, but now that I have gone out into the world and seen how teachers work on the back end, I know that he really went above and beyond to make sure that my transition was as smooth as it could be."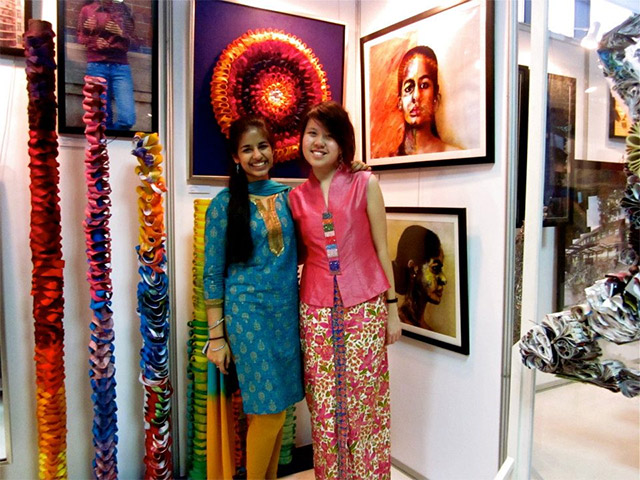 Monica Chan attends classmate and former Head Girl Sonalika Jain's IB Art Exhibition on one of her final days in Year 13 at Dulwich Pudong (2013)
STEM Kid
Monica has a deeper appreciation for the teacher life now that she is working on her Doctorate at Columbia University focusing on Education Technology, but her first passion was STEM: "I always identified as a STEM kid, I loved science and math since I was really young."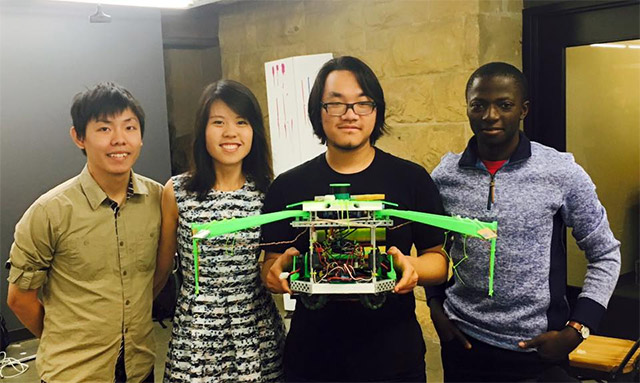 Monica Chan with teammates in a Mechatronics course at Stanford (2016)
During her IB, Monica studied Biology and Chemistry both at Higher Level, but she wanted to challenge herself with an additional science - Physics. So she enrolled in the Summer Science Program (SSP), an American summer camp in astrophysics, where she was first inspired to pursue engineering at college: "It was only six weeks of the summer but it was pivotal, showing me what STEM classes were really like at the college level."
"Design Thinking is an amazing, interdisciplinary framework that can be applied to so many different areas."

For college, she chose Stanford over Caltech because of her additional interest in the arts and social sciences. At Stanford, she declared a major in Mechanical Engineering with a minor in International Relations. Whilst there, she discovered a deep interest in design thinking at the d.school (Stanford's Hasso Plattner Institute of Design). "Design Thinking is an amazing, interdisciplinary framework that can be applied to so many different areas," she relates.
Monica's college reseach projects: Maker Portfolios, Make with Data and BrainWaves Neuroscience
Passion for Service
Monica nurtured other interests throughout her undergraduate years. She was involved in the campus UNICEF chapter all four years and also completed an internship at the United Nations High Commissioner for Refugees (UNHCR) in Geneva, Switzerland, under Stanford's Haas Center for Public Service Fellowship. As part of her interest in social impact, she began to explore education, specifically in STEM. "I had done a couple of internships in manufacturing but thought, well, I could do the job, but my heart isn't really in it," Monica says. "I found that I really wanted to use technology as a leverage to improve the lives of others more directly."
"I really wanted to use technology as a leverage to improve the lives of others more directly."
This led Monica to work with a professor in the field of K-12 and maker education at Stanford's Graduate School of Education. "This was my first foot in the door," she recalls. "I realised that middle school students were already learning to use 3D printers and laser cutters, tools that I was just discovering as an undergraduate. I thought: in 10 years' time education is going to look so different." This insight ended up forming the basis of her undergraduate honors thesis, and eventually the doctoral dissertation she is working on now.
In the Choir
Monica may have been a STEM kid but her interests have always been broader. She made a lasting contribution to DCSPD through her passion for singing. She fondly remembers many hours spent singing with the DCSPD High School Choir and Chamber Chorale, but that wasn't enough. "Even though I was in all these choirs, we were mainly singing classical repertoire, but I still wanted to try something that was more pop and alternative not what we had in school back then. After talking to a couple of friends, I became a founding member of Singchronised, an a cappella group. My friends and I had never done a cappella before and we self-taught each other."
Singchronised is still going strong today.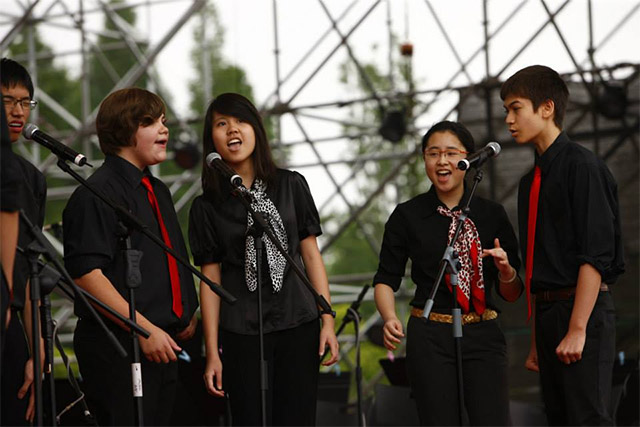 Monica Chan performs with Singchronised (2013)
Find Your Unique Story
Having successfully navigated the stressful process of IB / college application / undergraduate and beyond, she has advice for students who are at the start of the journey: find out what makes you unique.
For example, one of her formative moments came in 10th grade when for a school project she created a cookbook of Swiss-Singaporean fusion recipes - all authentic recipes created from scratch. To add even more challenge, she wrote the cookbook entirely in original poetry.
"This project really meant a lot to me," she says. "I was in high school in Basel, Switzerland, at the time and I had never lived outside my hometown Singapore before, so I really wanted to explore the country and the culture through food. Also I hadn't written many poems before, thus I had to seek some help. That project really represented who I am. It really portrayed 'that's Monica and no one else.'" Ultimately the experience formed the basis of her Stanford application personal statement.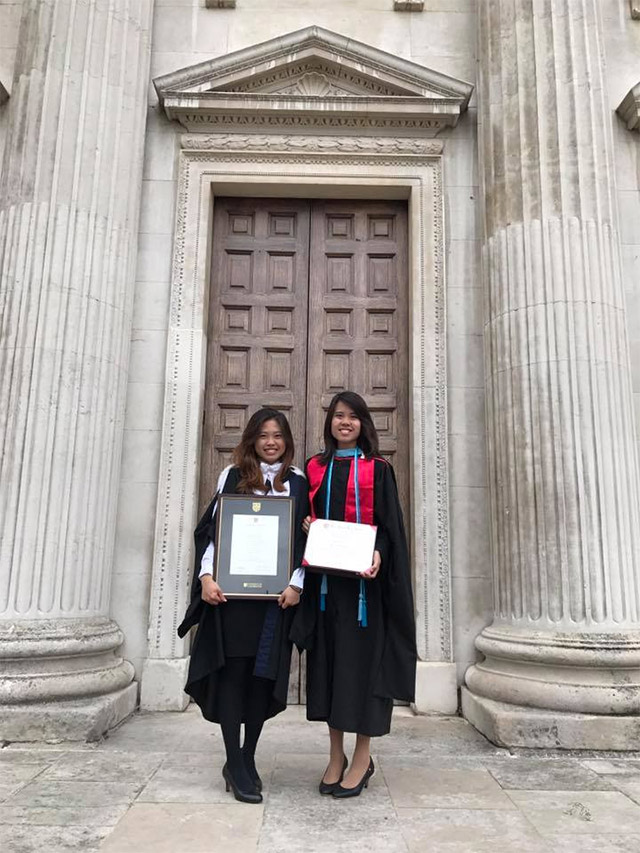 Monica (right) with her sister Beatrice (left; DCSPD Class of 2014; University of Cambridge alumni) posing after their graduation ceremonies (2017)
During the COVID-19 pandemic, she also had her first experience of entrepreneurship, co-founding CareerContact in Singapore. The idea came from a realisation that small businesses were being hit particularly hard due to lockdown, and that high school students have huge untapped potential in learning fundamental digital skills. CareerContact's remote programme matches high school students to small and medium sized enterprises (SMEs) around Southeast Asia to address digital business challenges, and introduces industry mentors as the third leg of the triangle.
"I saw a need that could be addressed where high school students could learn digital skills, like web development, user experience (UX) and digital marketing, to help SMEs digitize and adapt," she says.
CareerContact will be onboarding its next cohort this summer.
Advice for Students
Having accomplished so much in her post-Dulwich career, Monica has some advice for current IGCSE/IB students.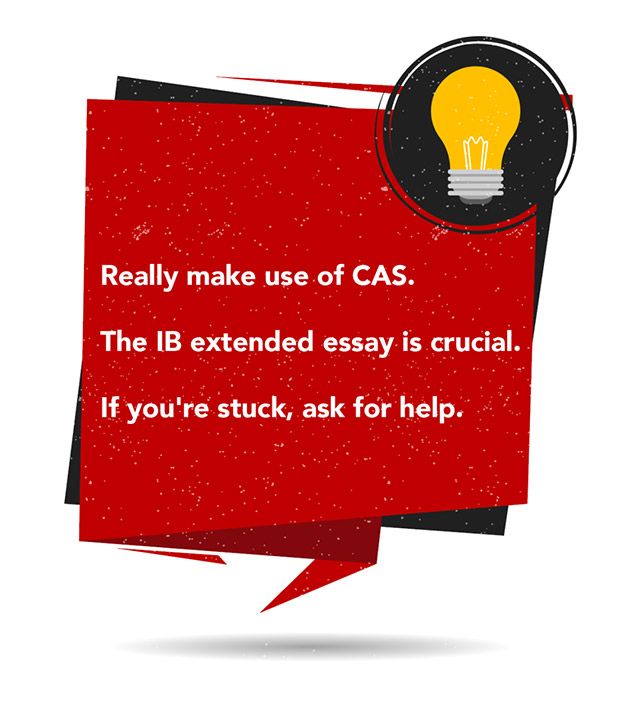 Really make use of CAS (Creative, Activity, Service)
Don't hit 50 hours of service just because you have to. Invest in enjoyable meaningful learning journeys that can add to your unique and deeply personal narrative.

The IB extended essay is crucial
It's probably the most representative piece for what college will look like. Think beyond IB and put in the time to write a strong EE.

If you're stuck, ask for help
The IB syllabus moves fast, and your teachers are there to help you stay on track.
A big thank you to Monica for kicking off our Alumni Talks with a bang. We are looking forward to our next speaker in April, just one of the many benefits of being part of the Dulwich Pudong community.