400 Years of Heritage
Dulwich College was founded by Edward Alleyn on 21 June 1619 with letters patent from King James I. This historical document, affixed with the Great Seal of England, still survives. An actor linked to Shakespeare's Globe Theatre and an entrepreneur in the world of Elizabethan and Jacobean theatre, Alleyn was a colourful and famous figure of his days. At the age of 47, Alleyn decided to establish a school for boys in London that would provide sound learning, strong artistic pursuits and good manners.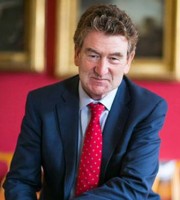 As The Master of the College founded in 1619, I am inordinately proud of the association with our international schools. I believe in them as a commonwealth of schools united behind a single educational philosophy.
- Dr Joseph Spence, The Master of Dulwich College
The College has long been a pioneer in education. In the 1880s, Master Canon Carver introduced the "Modern Curriculum" to the College, and in the 1940s the College embarked on the "Dulwich Experiment", admitting students on a needs-blind basis, based on academic ability alone. Among the beneficiaries of the Dulwich Experiment was Lord George of St. Tudy (Eddie George), the Dulwich postmaster's son who became Governor of the Bank of England. Dulwich College was the first British independent school to take its practices and ethos to Asia. The College also has produced leading scientists, actors, film directors, musicians, sportsmen and writers, a number of whom have visited Dulwich College International (DCI) schools to talk of their experiences.

#Dulwich400
This year, we will celebrate the 400th years anniversary of our founding school in London, Dulwich College. The anniversary programme of events and activities aspires to be a fitting tribute to our Founder, giving thanks to his enduring legacy – social and educational - and employing it as an inspiration for our pupils and our wider community today. At the same time, we mark the 400 years of history by looking forward and taking challenges of the next 100 years.
With its vision and purpose to create the best schools in the world so our students make a positive difference in the world, Dulwich College International is proud to be a part of this 400-year history of innovation and academic excellence. Throughout 2019, series of events and activities will be held accross the Dulwich College International network of schools to celebrate our 400 years of heritage and showcase not only the strength in academic of our students, but also the diversity of talents they have in sports, arts, drama and music.

A celebration of Sport, Drama, Music and Art
One of the highlight of our 400th years celebration is Dulwich Olympiad 2019, which brings together a representative body of students from Dulwich College International family of schools to participate in workshops and events, and to showcase their talents in competitions and performances together with students of the founding school in London, Dulwich College.
Throughout the week students will participate in workshops, events and they will showcase their abilities in sport, drama, music and art. It will be a busy and exciting timetable for everyone.