Like many in the Dulwich Shanghai community, our Lunar New Year holiday ended with an unexpected journey. Rather than return to our home in Pudong, we found ourselves diverted to North America, to stay with family and begin our "Adventures in E-Learning." For the first two weeks, we were on high alert, ready to head back to Shanghai, our bags still not fully unpacked. However, during those two weeks, our family of four – one teacher, one university counsellor, a Year 9 student and another in Year 1 – quickly adapted to testing out different online and technology tools, for both teaching and learning.
"Tech Tips" from our supportive Educational Technology team, as well as their willingness to answer our numerous questions as we shifted from the traditional classroom sessions to online learning and meetings were crucial and much appreciated during this initial transition period. There were still mistakes to be made, especially by this not-so-tech-savvy university counselor. But learning also happened at home as I discovered my own son was a wonderful resource to teach me how to create my first recorded lesson (and then teach me again and again as needed).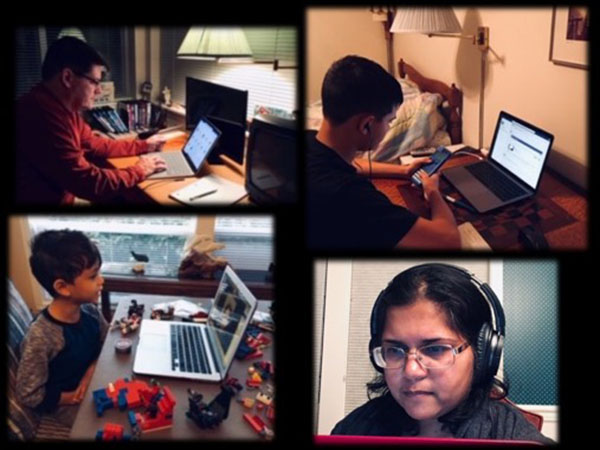 As the weeks continued, there were challenges, of course, as well as adjusting to time zones from the Pacific Northwest of the USA to Shanghai time. But we slowly got into the groove of the school day; all of us either "in class," having a session with students to review submitted work or discuss future university plans, or asking questions during the live classes, or tackling creative assignments like creating a campaign poster to save an endangered species ("Save the Sea Turtles! No plastic bags in the ocean!" as cautioned by my 6-year-old).
On a sunny but cold day, we walked as a family – our "Walk for Wuhan" – to show not only community solidarity but also appreciation for all the medical workers in Wuhan and throughout China who sacrificed their health and safety to protect others. Our weekend adventures and the mornings before our school-day started were a bit quieter, seeking to stay close to home and essentially self-quarantine, but we found ways to wander – outside to the nearby park or on a drive with beautiful mountains in view.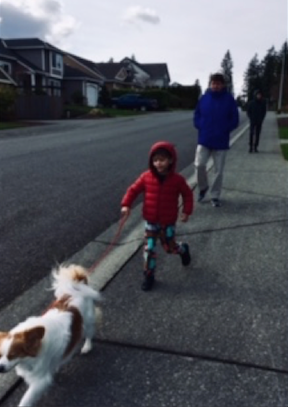 And now, six weeks later, we are in a routine while also looking towards the next adventure of finding our way back to Shanghai. The number of COVID-19 cases have increased around the world, and while others are just starting this E-Learning adventure that we have settled into, we are now hopeful that we will soon be back in school, in class, enjoying the community that we have missed. We are grateful for our family who took such good care of us during this period of E-Learning but will be even more appreciative when this unusual adventure draws to an end and we can connect in person again with friends, colleagues, and all those who make the Dulwich community a special, vibrant place. Until then, we hope that Dulwich students continue to enjoy their own adventures in E-Learning wherever they are in the world!
Mrs Sonali Hutchison (University Counsellor) & Family