Amy Hao: From Dulwich Pudong to the Sundance Film Festival
Amy Hao, Dulwich Pudong Class of 2015, recently came back from the Sundance Film Festival. She was there for the debut of Shortcomings, a full length feature film directed by well known Hollywood actor and comedian, Randall Park (of Fresh off the Boat and Always Be My Maybe fame).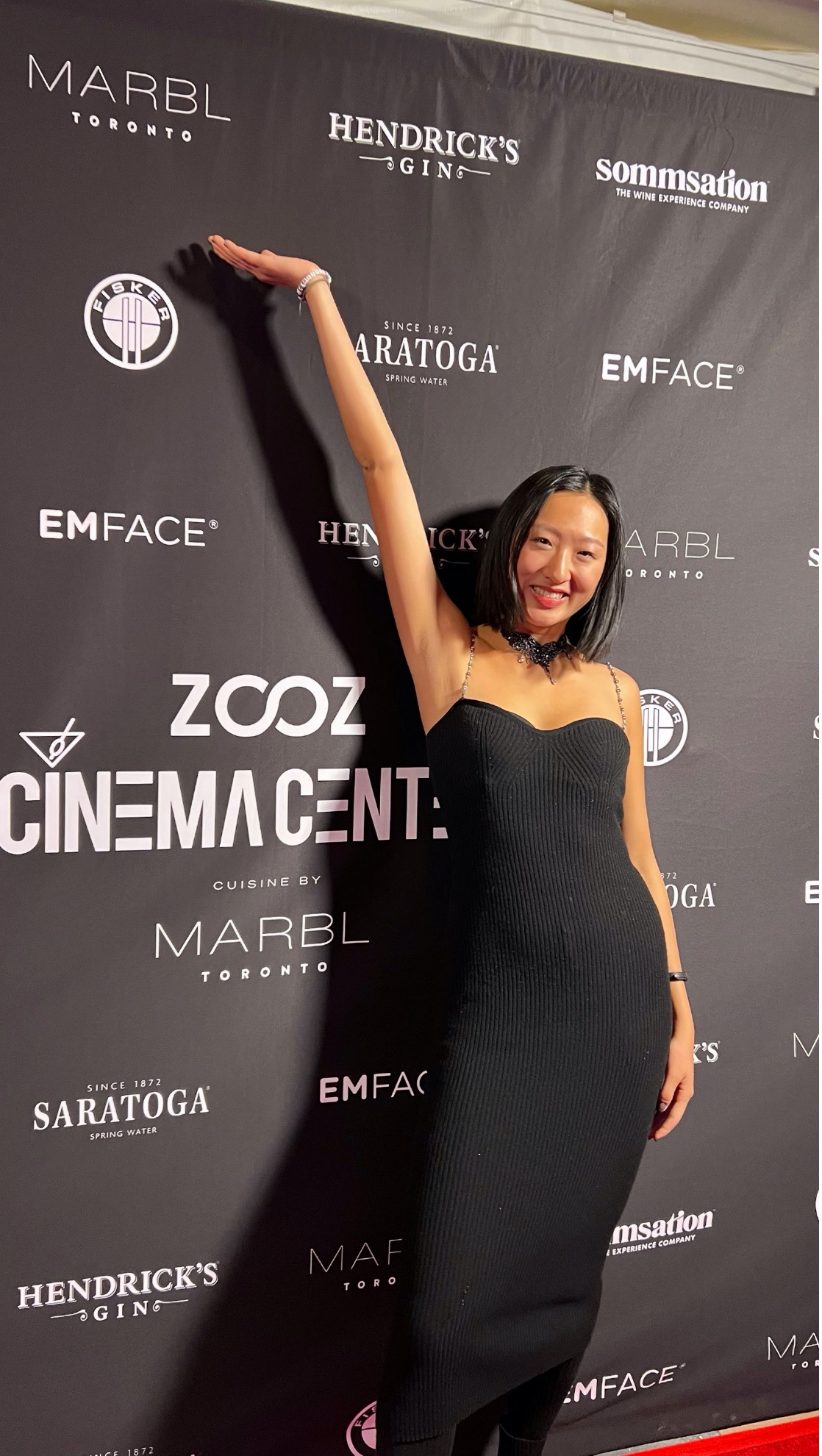 Amy did the music orchestration for the film, a complex cross-continental job which involved blending big orchestral sounds recorded in Budapest with grungy indie rock recorded in Brooklyn where she now lives. She had two weeks to turn it around.
Since she graduated from Dulwich Shanghai in 2015, Amy (who goes by the name Aizhou Liu professionally) has been pursuing her dream to be a professional musician. She graduated from the Berklee College of Music, one of the world's top music schools, in 2020, added a Master's Degree in Music Technology from New York University in 2022 and has been carving out a career in music ever since.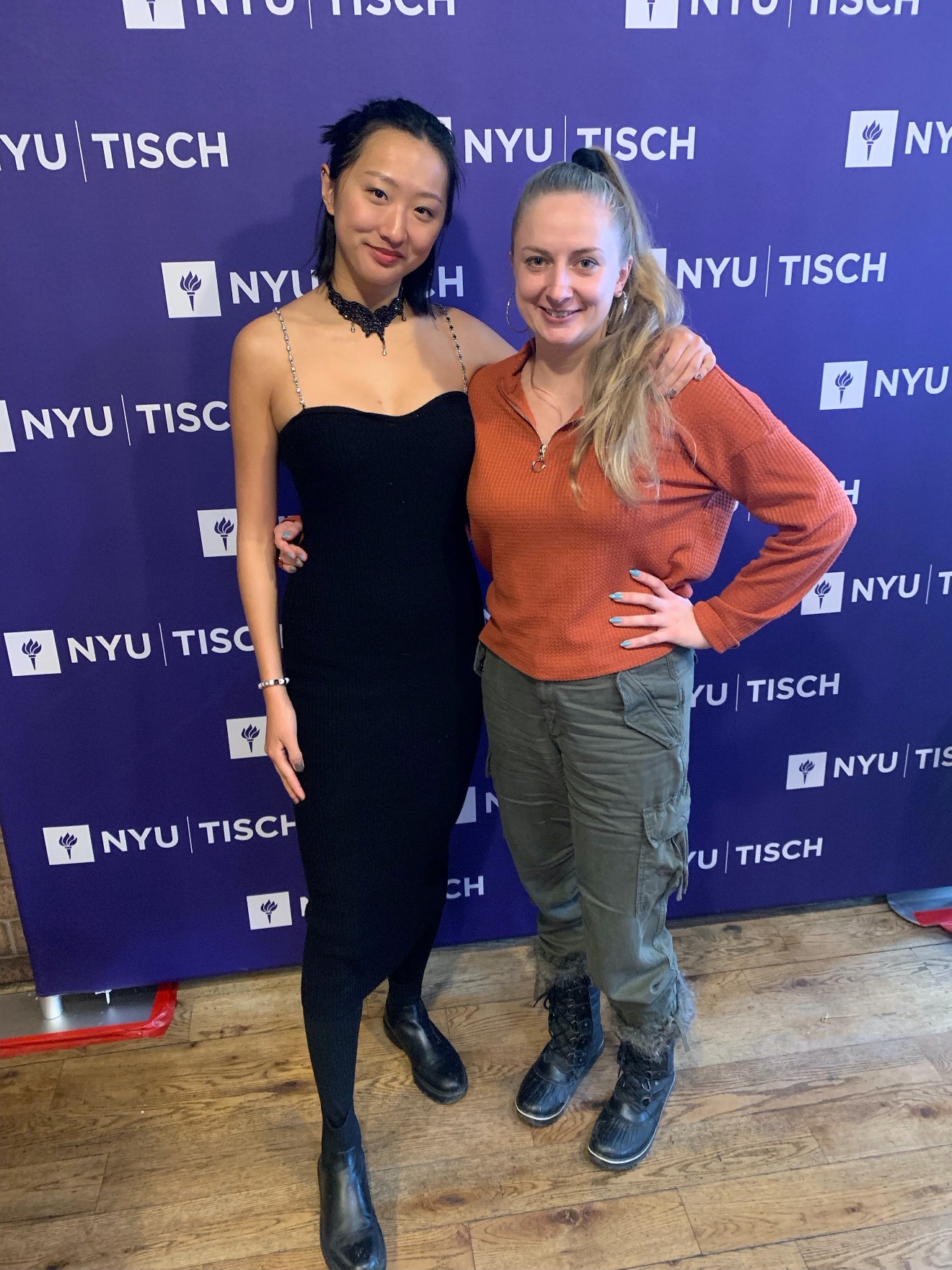 Amy with Bella Rasdal, costume designer for Sex & the City, at NYU
Music was her passion well before her Dulwich days. She started on the piano at a young age and was already an accomplished pianist when she joined Dulwich Shanghai in Year 10. She played in College orchestras and ensembles (characteristically humble in omitting that fact that she was a standout performer whilst here), but what she remembers most fondly is playing in bands and performing all over Shanghai at fairs and charity events.
"Music should be expression, not just ritualistic performance," she says of her musical evolution.
From Dulwich to Sundance was by no means a straight line. Creative careers rarely are. She recalls how she once failed a music class with the teacher advising her parents that she shouldn't pursue a career in music. But she was determined to find her identity and forge her own path in music.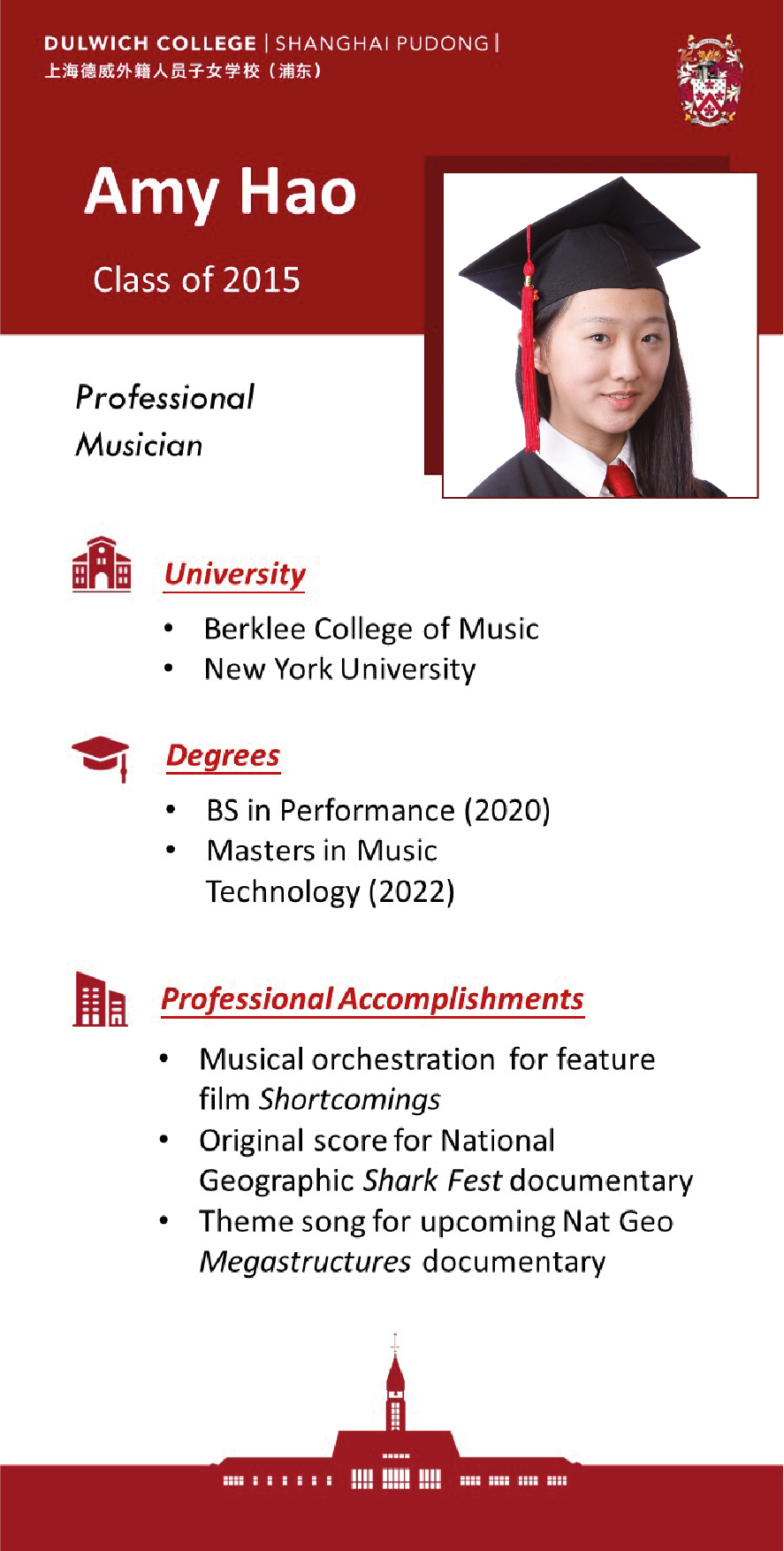 She entered Berklee thinking she wanted to be a singer-songwriter, but along the way she discovered that music was a vibrant and multifaceted industry spanning film, TV, and even video games. "I have a voice and I write songs for myself," she says, "but I learned that I can also be part of something bigger and help others realize their vision."
After graduating from Berklee, she moved to Los Angeles in the spring of 2020, packing everything she owned in just two days. COVID threw a major spanner in the works, grinding everything to a halt, but she displayed a great deal of resilience finding ways to make things happen for herself, whether that was writing advertising jingles or doing vocal production for commercials.
"I had to start from ground zero," she recalls. "And actually this was when I really fostered my relationships, started building my network, and planted the seeds for the trees which have grown over the past couple of years."
Her efforts are bearing fruit. In 2021 she started to work with National Geographic collaborating on a number of projects. She wrote the theme music for an upcoming reboot of their famous Megastructures series. She also did the score for a documentary for their popular Shark Fest series (Game of Sharks, in case you're wondering). She did the theme song for an episode of Chip 'n' Dale for Disney Junior. And then, of course, Shortcomings, which has brought her into the Hollywood orbit.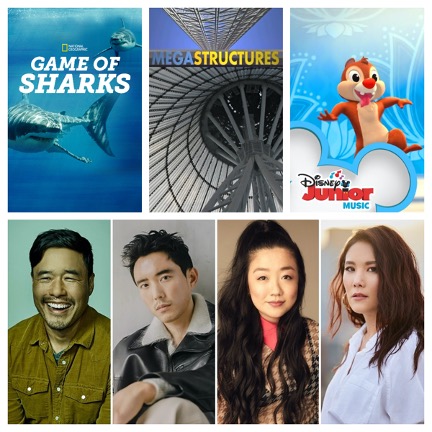 A selection of projects Amy has worked on recently
"What I've learned along the way is that success is a moving target," she reflects. "The 'trying' never stops."
The commercial projects help pay the bills, but far from being cynical about commercial work, she embraces the opportunity to express her vision and bring something new to whatever she is doing.
Now that's she's starting to break into the big leagues, how does she see her career developing?
"Winning an Emmy or a Grammy would be great, that's what everyone wants, but beyond that what matters to me is storytelling and social causes. Music and film can do much more than entertain. It can educate. It can accelerate change. It can make people have uncomfortable discussions about important topics. This is something I'm very passionate about, being part of the change."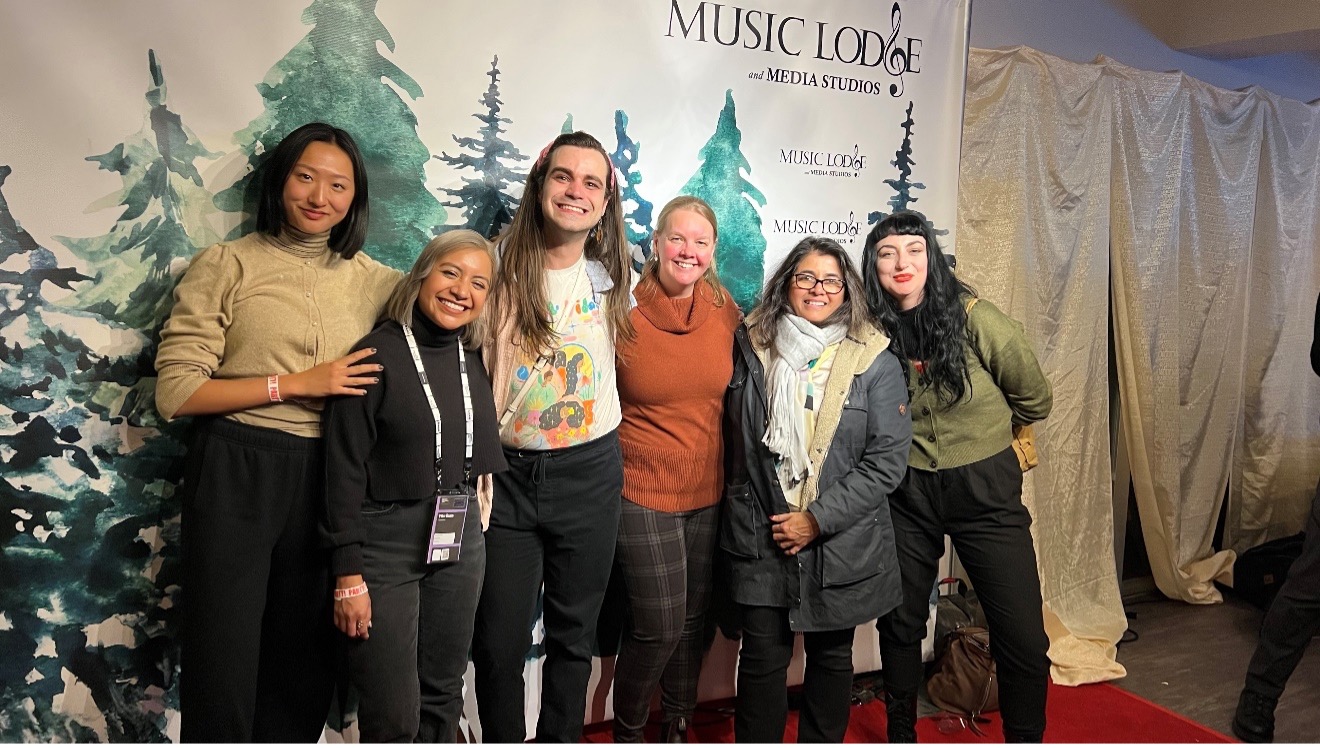 Amy Hao with the Alliance of Women Film Composers at Sundance
Amy was a free spirit at Dulwich. She credits her time here with not only introducing her to important formal aspects of music and composition, but also giving her the confidence to thrive in a place like Berklee. Dulwich's strong academics endowed her with a well-rounded education and her involvement in service learning such the Peace Centre Uganda and the Music for Migrant Children CCA sparked a passion for social causes.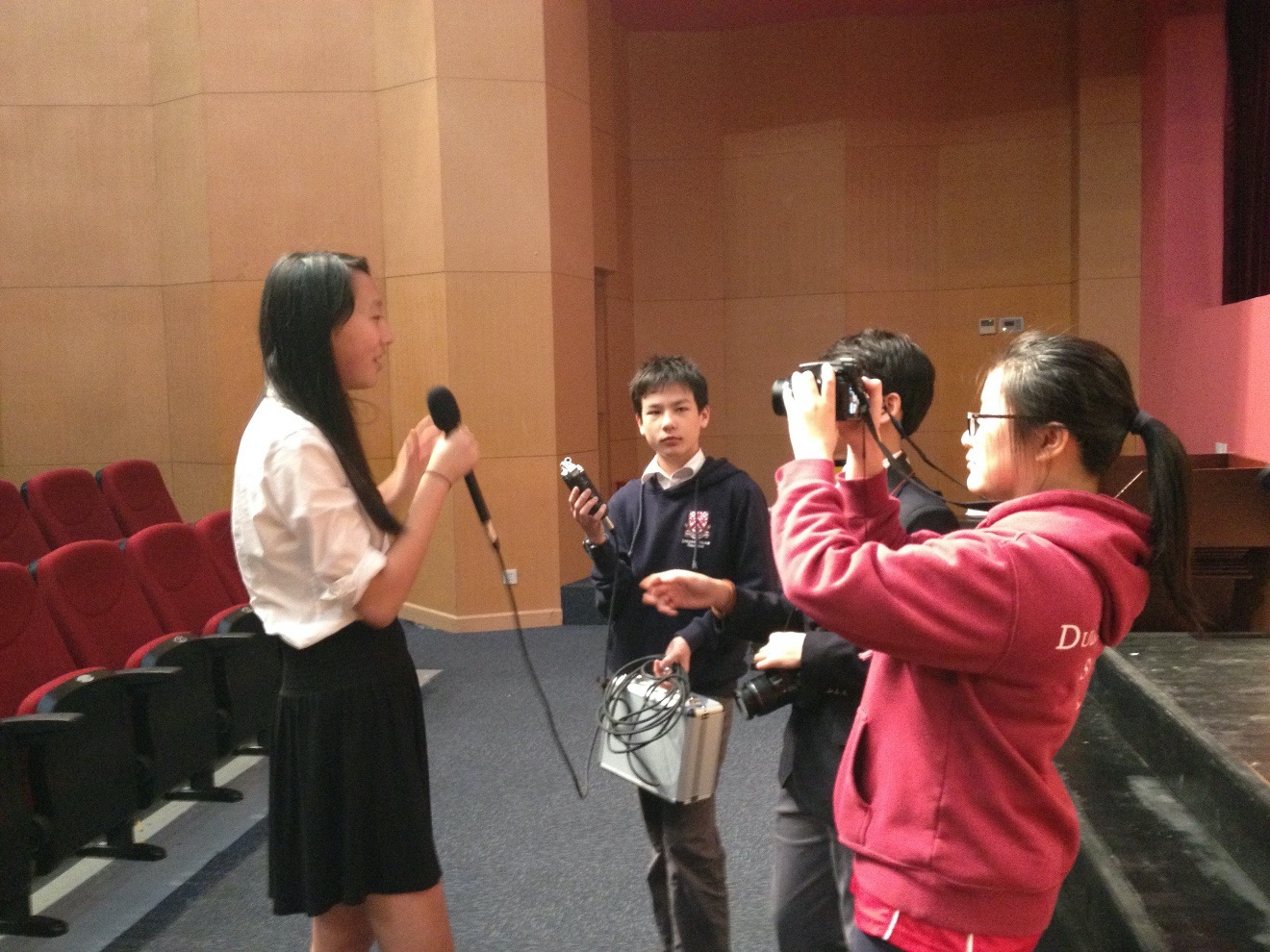 Amy at Dulwich being interviewed by student reports for her involvement in the Project Muse Charity
Interestingly, though, the teacher she remembers the most was her English Language teacher, Mrs. Van De Casteele.
She recalls, "When I got to Dulwich I was an okay writer, but not a great writer. I even started out in EAL for a short bit. Mrs. Vandecastille was so encouraging. She had the patience and took the time to explain things to me which I didn't understand. She encouraged me to write and pushed me to be a better writer. And now I'm writing song lyrics in English all the time!"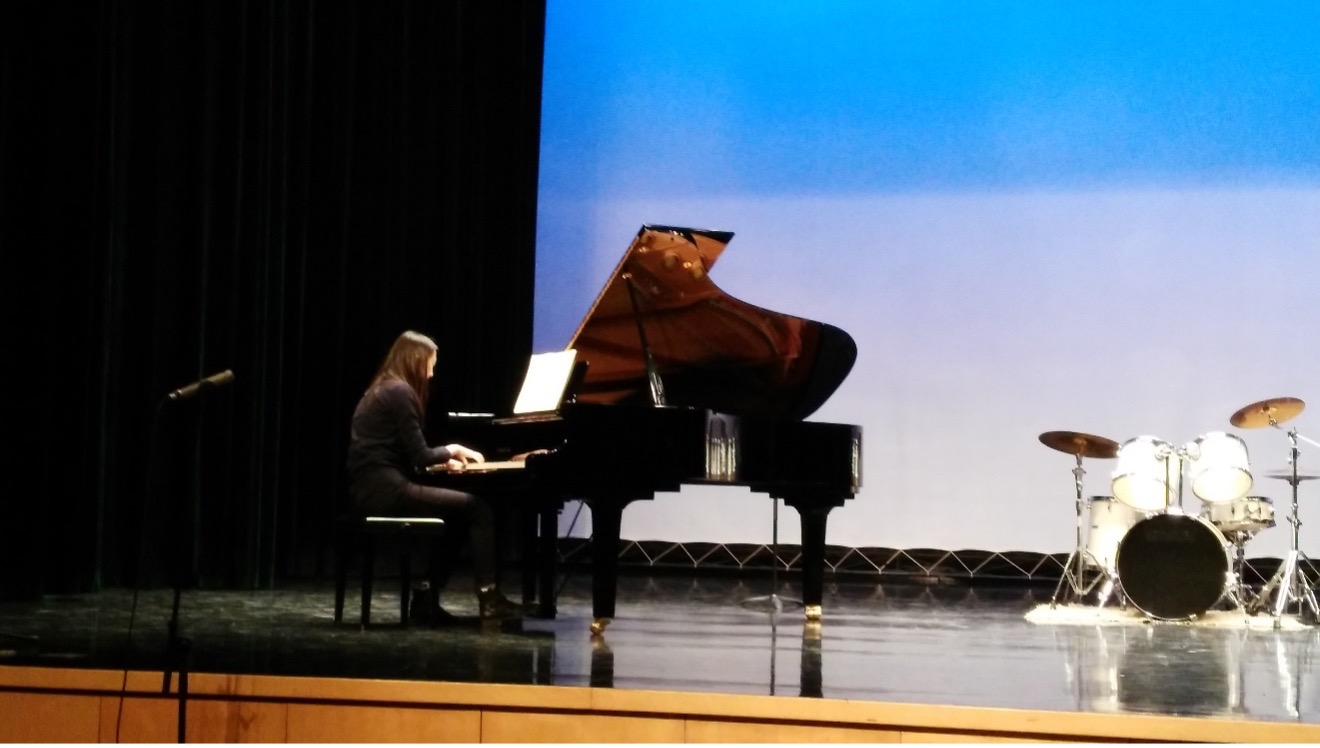 So what does Live Worldwise mean to this up and coming musical talent?
"It's about global perspectives," Amy says. "You need to see the world before you can find your place in the world. If you open your mind and use the world as your canvas you can find new versions of yourself and reinvent yourself."
Look for Shortcomings on a streaming service near you later this year and a lot more from this Dulwich Pudong graduate in the future!