Behind the Scenes of the Senior School Production: Alice in WDL

The Senior School production is one of the highlights of the year. Amidst the spectacle of the show itself, we shine a spotlight on the incredible student work which goes on behind the scenes.
Ahead of the premier of Alice in WDL, we sat down with Deputy Stage Manager and Year 10 student, William S, to see how he has stepped up to take on one of the most important jobs in the show.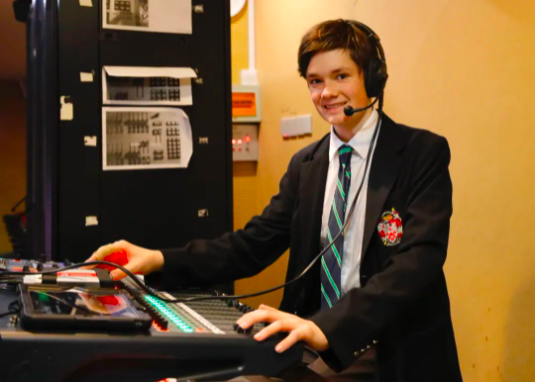 What does a Stage Manager do?
Stage Manager is one of the most critical roles in any large scale theatre production. It is the linchpin which ties everything together, ensuring that the actors, set and props get on stage at the correct time and respond to the correct cues.
It's no understatement to say that if the Stage Manager is not on top of their game, the entire production can easily fall apart. It's a huge responsibility.
"You have to be really calm when you do this job," William explains. "Your notes have to be on point and you have to know what you are doing at every moment so that everyone else around you can function correctly, otherwise the whole thing might collapse."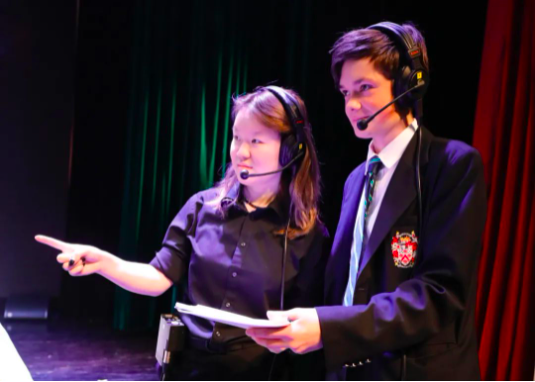 Alice in WDL is no small production either. The show is two hours long; there are 55 actors involved; and the action takes place over two acts encompassing 15 scenes. Each scene has a new setting and theme and within them are additional cues. Making sure everyone hits those cues is what, in William's words, "makes the show look really crisp and fancy".
Leading up to the performance itself, the Stage Manager has a ton of preparatory work to do. He is at every rehearsal making sure that the performers, set and props are in place. He also gives encouragement to actors who may be experiencing nerves. He builds strong working relationships with every department including actors, technicians, set designers, costume and props managers.
Basically it's boot camp for high level project management skills.
Why get involved?
William got the theatre bug last year playing a Winkie in The Wizard of Oz. This year he was determined to see what the backstage world was like.
"Originally I volunteered as a stage hand, just there to help move things around," William shares. "When the call came for a Deputy Stage Manager, I thought 'I'll give it a shot' and here we are."
It hasn't been an easy path. William is frank in sharing that, at the beginning, some of the other students were skeptical he could shoulder the burden, especially considering this was his first time in a backstage role.
"At first they didn't give me any slack on anything," he says, "but as time has progressed they've been like 'Oh, he can really do this.'" With hard work, diligence, and attention to detail, he's earned the trust of the entire cast and crew.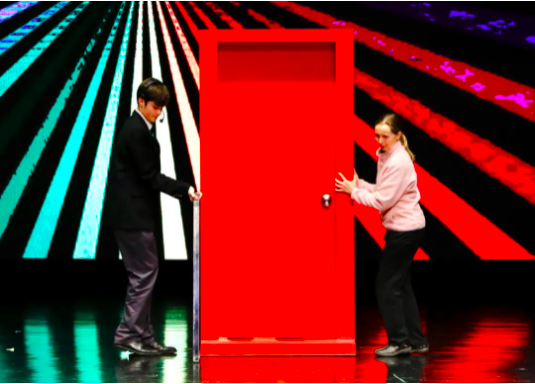 Fortunately he hasn't had to do it alone. He works closely with Senior School Head of Drama Helen Bamford, and production Stage Manager, English/Drama Teacher, Suzy Hart. "They have been incredibly proactive about guiding me in the right direction, in particular how to organise my time," he says. "If I ever have any questions, I can always go to them. If I have any ideas they always listen and give feedback."
"William's been an absolute joy to work with," says Ms. Bamford. "Stage Manager is one of the most important roles in a successful production and he has taken on every challenge with an open mind and a can-do attitude."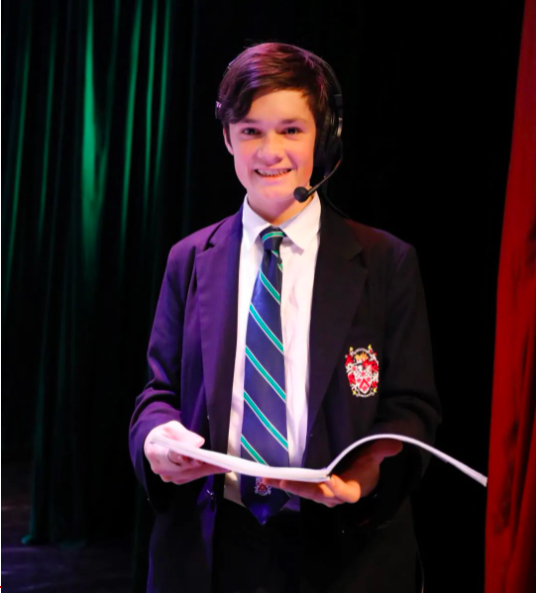 The Learning Journey
It's been a remarkable learning journey for William. "I thought it would be very calm and collected," he says, "but as we get closer to the actual show date, you can see how the tension starts to build."
He feels he's grown in a lot of important areas:
Leadership - Making sure all 15 of the stage crew team are working in unison

Responsibility - Many different departments rely on you

Directing - Understanding what makes a great production

Attention to detail - There are hundreds of props and other details to account for

Focus - A two-hour production means you have to totally concentrate on the job at hand

Dealing with stress - Being calm yourself helps everyone around you be calm too

William encourages students to get involved, especially in the backstage work: "You get to use all the tech that we have in the theatre and you have the chance to learn from the most professional dramatists we have at the College."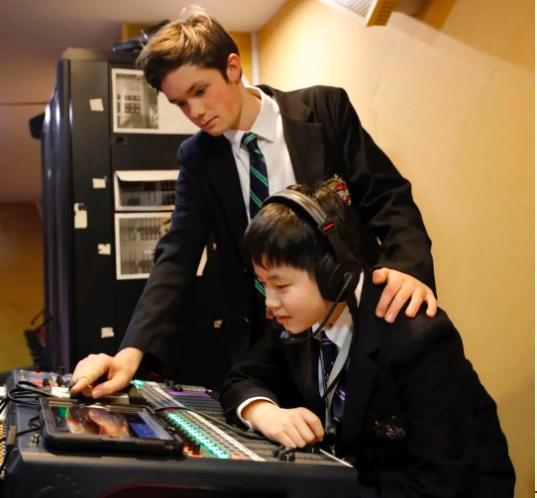 Balancing academics and extracurriculars
One of the biggest challenges has been balancing his commitments. William estimates he's putting in over 10 hours a week on rehearsals after school and during lunch not to mention the time spent updating the progress of the individual departments.
Meanwhile he's still very much involved in sports, putting in another 8 hours per week with the Dulwich Earthquakes football team, rugby (where he is the D2 U16 captain), and SISA football.
To strike that balance he has held himself to a strict schedule for completing his academic work. The key, he says, is staying organised.
His parents have also been supportive: "When I first mentioned the Deputy Stage Manager role, they just said, 'If you think you can do it, it's a really good opportunity.'"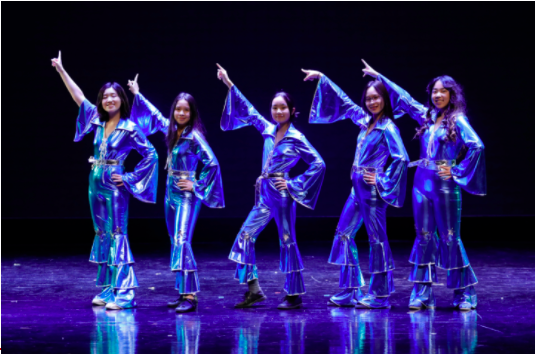 What to expect from the show?
For him the most rewarding part has been to see everything come together over the weeks and months. The irony is that, as the Deputy Stage Manager, he won't get a chance to sit in the audience and enjoy the fruits of his work. "I can't wait to see the recording," he says. "I'm sure it will look amazing!"
If you're thinking the Disney version of Alice in Wonderland, think again. William shares, "This version of Alice in Wonderland has a lot to do with current situation in the world such as the pandemic. We tried to simulate what a version of Alice in Wonderland would be if it were taking place in 2022. Think technology and viruses and things like that but with a groovy 1970s vibe."
We can't wait to see the performance whilst appreciating the hard work and personal growth that has taken place behind the scenes.