Hi, Robot! Meet the new D-bots at DUCKS
This week Dulwich Pudong welcomed four new members to our DUCKS community: the D-bots. These new hygiene robots support our hard-working staff of ayis. They use the same government-approved disinfectant that our ayis currently use in combination with UV light to ensure that our DUCKS classrooms and common spaces are as hygienic as possible all the time.
"One of our core pillars at Dulwich is pioneering spirit," says DCSPD's Director of Business Administration Angela Hencher who spearheaded the project. "We believe the addition of the D-bots will make our facilities the new standard for cleanliness amongst international schools."
There is one D-bot for each floor in the main DUCKS building with one in the Toddler Center. The robots will autonomously roam the building throughout the night on pre-planned routes traversing hallways and classrooms and other common areas. Mid-way through their night shift they take themselves back to their charging station for a quick re-charge and then complete their work before school opens in the morning.
D-bots are able to reach areas that are difficult for humans to reach. They spray an incredibly fine dry mist of the same Government-approved detergents that are currently used combined with further UV sterilisation. They will significantly increase the level of sanitisation across the DUCKS campus, killing 99.4% of germs, effective against COVID and other communicable diseases.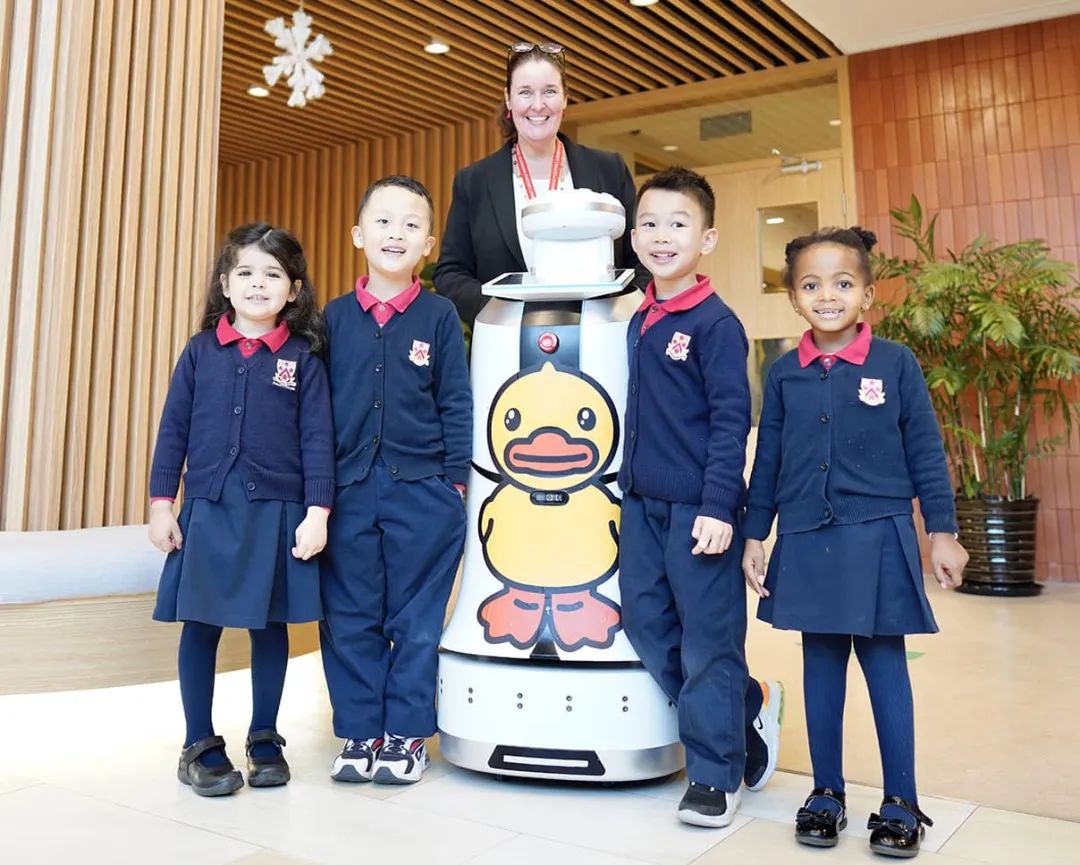 The D-bots come to us courtesy of Intech, an award-winning Pudong-based company. D-bots technology is quite advanced, utilising the same basic LIDR technology as self-driving cars. D-bots are able to recognize and avoid objects in their path and log any interruptions for further action.
When COVID hit, the Shanghai government approached Intech about creating what would later become the D-bot prototype. Their first client was Renji Hospital. The first generation hygiene robot was able to clean all 23 floors of the hospital in two days, even getting itself up and down elevators. Intech hygiene bots are currently used in numerous hospitals throughout Shanghai as well as the Hongqiao Railway Station. Our D-bots are the first to be deployed to a school in China. They now have orders coming in from all over the world.
Says Intech founder Dr Junwei Wu, "As an engineer, my greatest pleasure is seeing our technology being used to solve real human problems. In fact this is what Shanghai Mayor Li Qiang emphasized to me when he reviewed our robots: use your technology to make society better."
Intech engineers spent considerable time studying the DUCKS space as well as DCSPD safety protocols, making numerous modifications to customize the D-bots to our special requirements. The result was a smaller robot that could fit into tight spaces like the student bathrooms and childproofing the detergent entry chamber against inquisitive little hands.
Dr. Wu hopes that the D-bots will not only create a more healthy environment for DUCKS students but also help inspire Dulwich Pudong students to learn more about robotics. "In the future we will invite Dulwich students to visit our R&D center where they can see robots being designed and tested."
From the looks of it, the students are just excited about their newest additions.
And what do you think the "D" stand for? Dulwich? DUCKS? Disinfection? All three of course!