Get To Know Our Dulwich Pudong Dining Halls
This month, many Junior School and DUCKS parents attended Parent Academy Workshops on Nutrition and Healthy Eating, delivered by Dr. Cinny Ling and Dr. Apple Yin from United Family Heath. They took us on a deep dive into the physiology of the body and how food consumption impacts it.
We learned how much mental alertness and physical wellbeing depend on proper nutrition. We also learned the latest recommended nutritional advice from experts and got practical tips on how to nudge ourselves - and our children - into healthier eating habits.
Healthy eating is important to all of us across the College and there's no better place to see that in action than every day in our Dining Halls.
"The food provision at Dulwich Pudong is second to none," says Marion Delaplace, Food Service Manager at the College. "There are numerous checks and procedures in place to make sure that what the children eat every day is healthy, safe, and, of course, delicious."
Dining at DCSPD
There are three Dining Halls at DCSPD, one each for DUCKS, Junior School and Senior School. The food provision is catered for by Aden Edge. Students are given a wide selection of dishes every day to choose from, including a vegetarian option. They also have a fruit, a yogurt and access to the salad bar all year long, as well as a soup during winter months.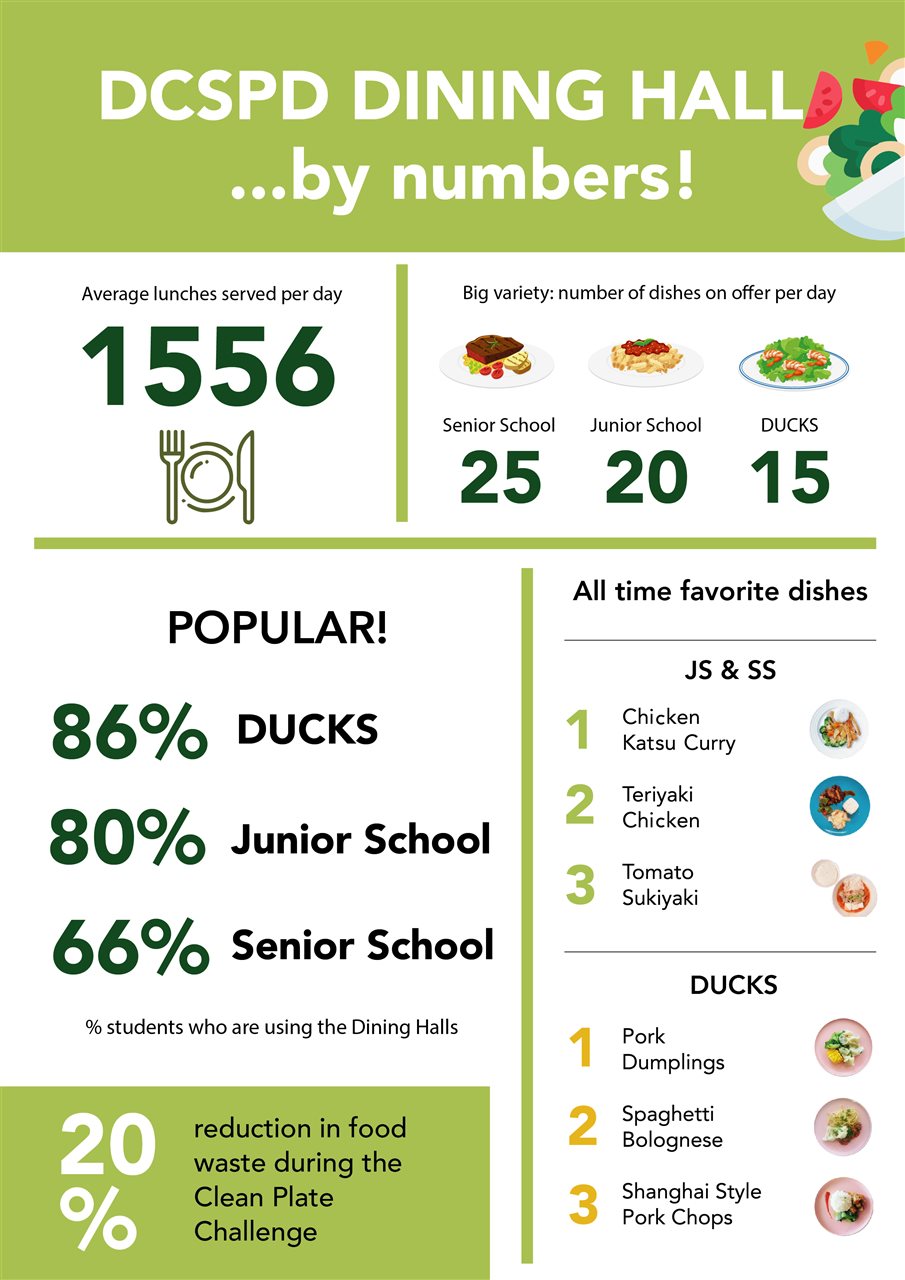 Health and Safety
Health and safety is the foundation of our food provision. To ensure our high health and safety food standards are being met there are weekly inspections conducted in all three Dining Halls. In addition, a monthly inspection is conducted by Intertek, a leading Total Quality Assurance provider to industries worldwide.
Health and safety is led by Joyce Xu, our Food Safety Officer, in conjunction with Summer He.

Nutrition
Each menu contains detailed information regarding potential allergens as well as the nutritional values for all dishes served so students and parents can decide what to eat according to individual needs. This is supported by nutritionist Hilla Chen who is responsible for the nutritional mix of school meals.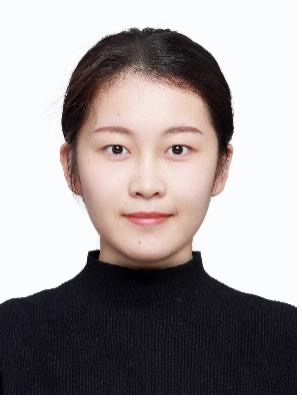 Hilla Chen, Nutritionist
Aden is committed to optimizing the nutritional quality of food served by following best practices in food preparation and serving. ADEN follows a strict nutritional commitment which includes:
Ensuring diversity in the structure of meals
Guaranteeing the delivery of products with sizes and portions adapted to the age of children
Favoring the use of seasonal products in the menu
Aden's goals for menu creation follows principles such as:
Increasing the consumption of fruit and vegetables
Increasing the consumption of starches which are rich in fiber
Increasing the intake of iron and calcium
Rebalancing the consumption of fatty acids
Reducing the consumption of simple sugars
Limiting excesses sodium (salt) intake
Meet Our Chefs
Our Dining Halls are staffed by five experienced chefs and two cooks. They bring to us a wealth of experience working in leading restaurants and hotels.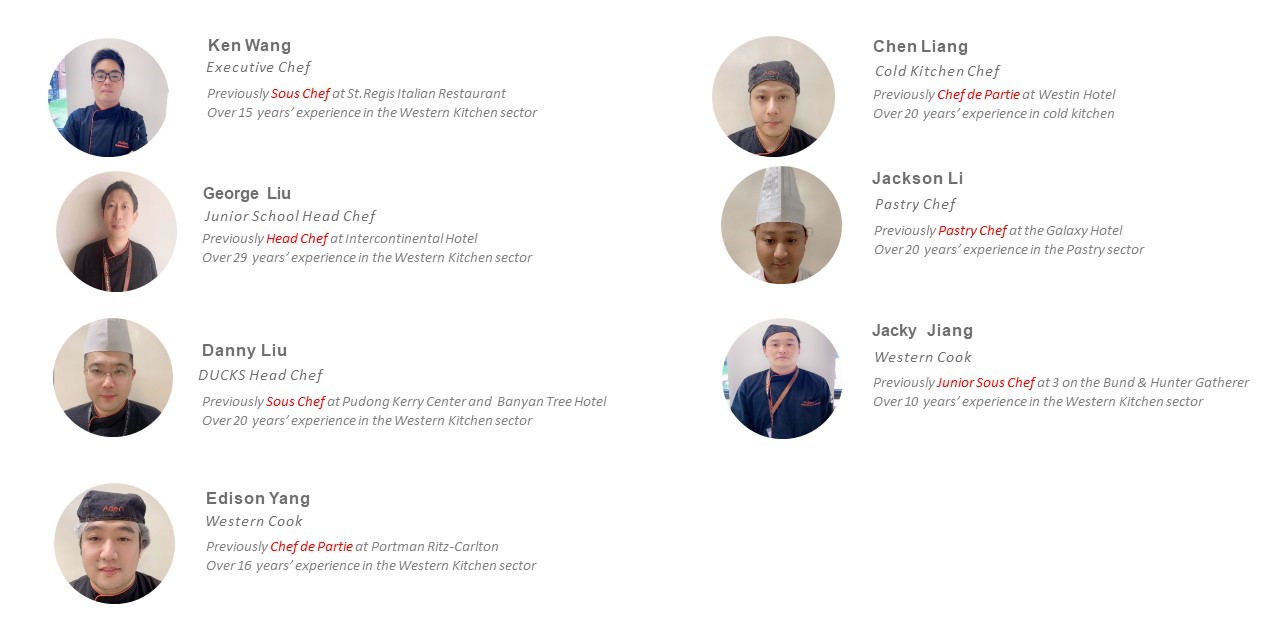 It Takes a Community
But food is more than just what we eat. It's a statement of values, of what's important to us. Likewise, a Dining Hall is not just a place where food is consumed. It's a place where our College community gathers together every day and where everyone's voice is heard.
Food Ambassador Programme
The Food and Nutrition Ambassador programme is an important way students participate in the development of the Dining Halls. Students from DUCKS (Year 1 and 2), Junior School and Senior School take up these roles and as part of their duties they gather feedback from peers which they share at regular meetings throughout the year. They provide valuable inputs guiding improvements linked to nutrition and the meals offered.
In addition, there is a Food & Nutrition Committee composed of parents, staff, and students which meets termly to share feedback and provide suggestions for future development.
An important place for teaching and learning
Our Dining Halls are also important places for teaching and learning, with several important food-based events taking place every year.
Hunger Banquet
The Hunger Banquet is a lunch-based simulation where we are encouraged to develop empathy for those living below the poverty line through imagining life in different economic backgrounds. Upon entering the Dining Hall, participants receive a ticket at random which can be exchanged for a meal. This event is put on by our Senior School Global Citizenship student team.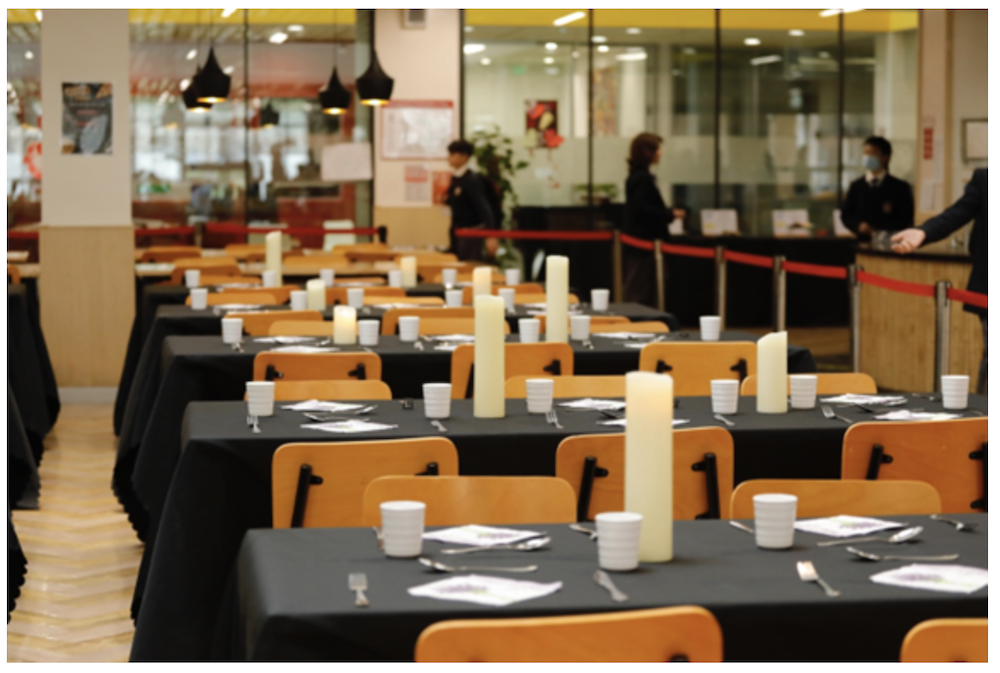 Support staff appreciation breakfast
Support staff are invited to the Senior School Dining Hall for a traditional Chinese breakfast. This event not only creates a culture of caring and understanding for others, but also prompts students to reflect on how to pass on kindness to those who might not otherwise be widely recognized for their important contributions.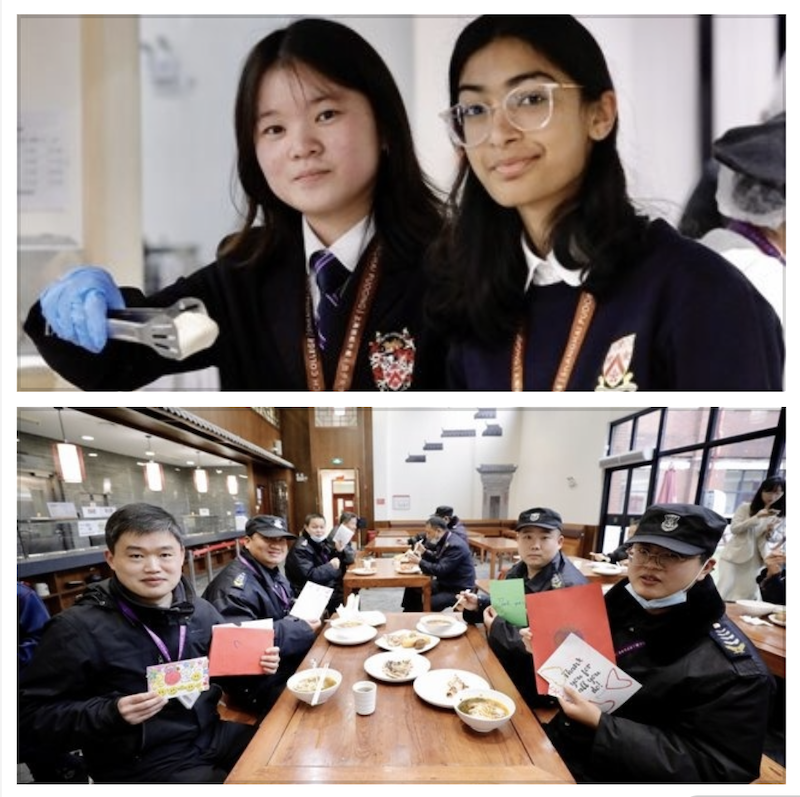 Clean Plate Challenge
Several years ago, our students launched the first Clean Plate Challenge, a campaign to reduce food waste. It took place over several months and made staff and students much more aware of how much food waste takes place as well as prompted thinking toward finding long-term solutions.
One of the results of the campaign was the introduction this year of waste sorting bins. Now everyone disposes of the contents of their plates according to different types and then hands the empty plates off for cleaning. The new bins effectively educate students and staff on sorting waste and also raise awareness about reducing food waste.
The combined efforts of these campaigns have led to 20% reduction in food waste.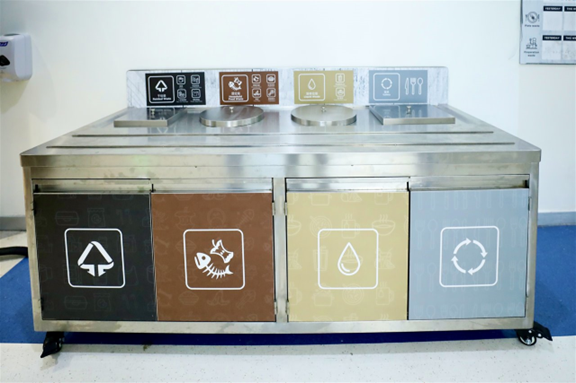 Own What You Eat
In the last several years we've held two Own What you Eat events, a collaboration led by Dulwich Pudong and the Shanghai Service and Sustainability Network. Over 300 people - including parents and students - attended the events.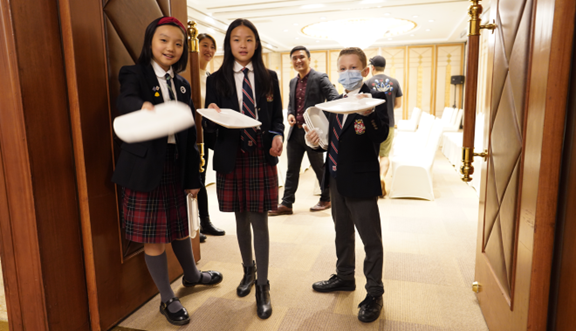 Intercultural Understanding
Food is also an important way in which we access other cultures; for children it might be the first exposure they have to other cultures. Through the preparation and consumption of food, cultural values are expressed and appreciated. Our Dining Halls play an important role in enhancing intercultural understanding, one of the 5 key pillars of Global Citizenship.
We have at least one day a month where we connect with specific cultures through food. A few of the cultures we have celebrated this year include Thailand, Nepal, India, Spain, Greece, Portugal, Italy and Lebanon.
Occasionally, during events such as Literacy Week or Senior School production, our Dining Hall offers special dishes linked to the event to give students a better experience of our rich school life.
Food also plays an important role in our cultural celebrations. This year we have celebrated Dia de los Muertos (Mexican festival), Mevlani (Turkish festival), Lunar New Year (Chinese festival), Mardi Gras (French/New Orleans festival), and Saint Patrick's Day (Irish festival).
Learning Life Skills
Beyond the Dining Halls, food forms an important part of our holistic curriculum. For example, Year 10, Year 11, Year 12 and Year 13 students have cooking lessons in the Food Lab as part of the Holistic Development Curriculum in which they learn how to use and take care of cooking utensils as well as prepare meals. In addition, before entering the Food Lab, each student receives Food Hygiene and Safety training.
These cooking lessons are an important way in which we ensure our graduates are well-prepared for university life.
Every year Year 3 students engage with the Happy Healthy Heroes unit where they learn facts about nutrition and experience different ways of cooking. They even come to the Food Lab to learn how to make their own dumplings.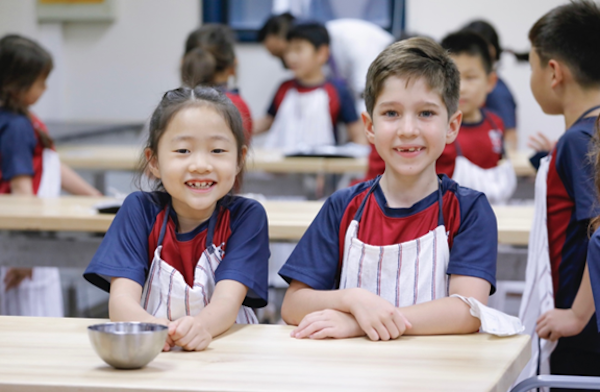 DUCKS also has a cookery Co-Curricular Activity where all food made is donated to a local orphanage.
We are very proud of the dining experience we provide to our community and greatly value feedback from our community on how to continue to improve it.