Maths Masters: Junior School Students Achieve Brilliant Results
We are proud to announce that our Junior School students have done brilliantly in the 2022 Singapore and Asian Schools Math Olympiad (SASMO) competition. SASMO is one of the most prestigious Maths Olympiads in the world, attracting the best and brightest students from Singapore, Asia and beyond.
You can see the full results below: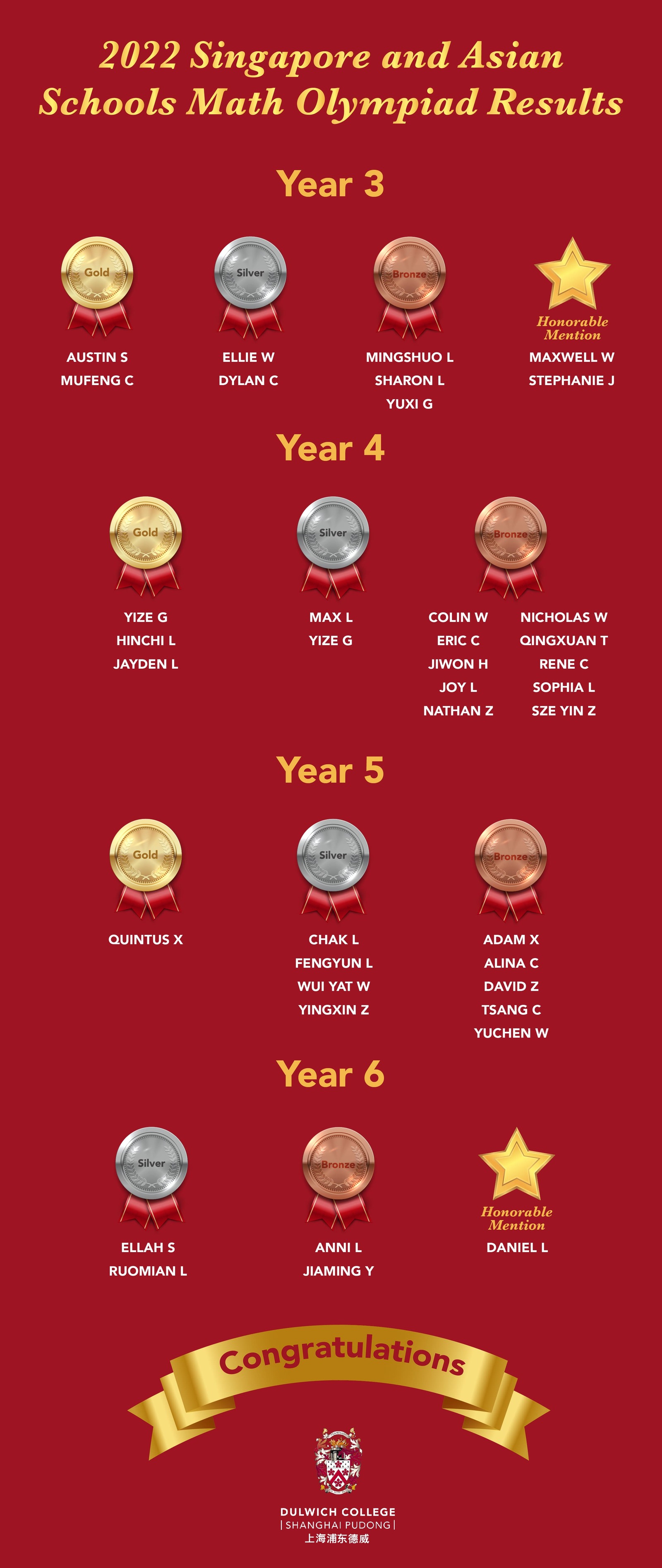 In addition, we are thrilled to announce that five of our students placed in the Top 20 within China:
Year 3 - Austin S and Mufeng C
Year 4 - Seth L, Jayden L, and Yize G
Whilst Year 4 Seth L placed Top 4 in the entire world!
"I am so proud of our students who challenged themselves to take part in SASMO," says Junior School Maths Coordinator Heather Scoggins, "They have demonstrated not only the higher order thinking skills and problem solving and reasoning capabilities, but also such tenacity and resilience having taken part during lockdown!"
Maths at Dulwich Pudong
At Dulwich Pudong we firmly believe that every child is a mathematician.
Our Junior School Maths programme aims to nurture problem solvers who are able to:
justify their reasoning
think creatively and explain in multiple ways
collaborate effectively with their peers
manipulate concrete pictorial and abstract (CPA) representations
challenge themselves by going deeper
In keeping with the philosophy of the English national curriculum, we have two Maths pathways which are based around levels of confidence. Our students learn the same curriculum at the same time just with a slightly different focus. The specific movement is personalised to the student based on the student's engagement and reaction to the material.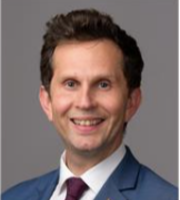 Long gone are the days when students would be categorized and differentiated based on ability.
- ​Simon Underhill, Deputy Head of the Junior Scho
"Long gone are the days when students would be categorized and differentiated based on ability with the 'good students' at the top and the 'poor students' at the bottom," says Simon Underhill, Deputy Head of the Junior School.
Today the focus of the best maths pedagogy is to go deeper and seek mastery of problem solving and reasoning.
"Our aim is not to race to harder mathematics too quickly," Mr. Underhill explains. "When our Junior School students reach the end of Year 6, we want them to be absolute masters of the Year 6 curriculum with no gaps."
Only then will they be fully prepared to succeed in the I/GCSE and IB which require a deep and solid foundation in the subject.
"When you are examined in maths in the IB, there is no advantage to being able to PhD-level mathematics," continues Mr Underhill.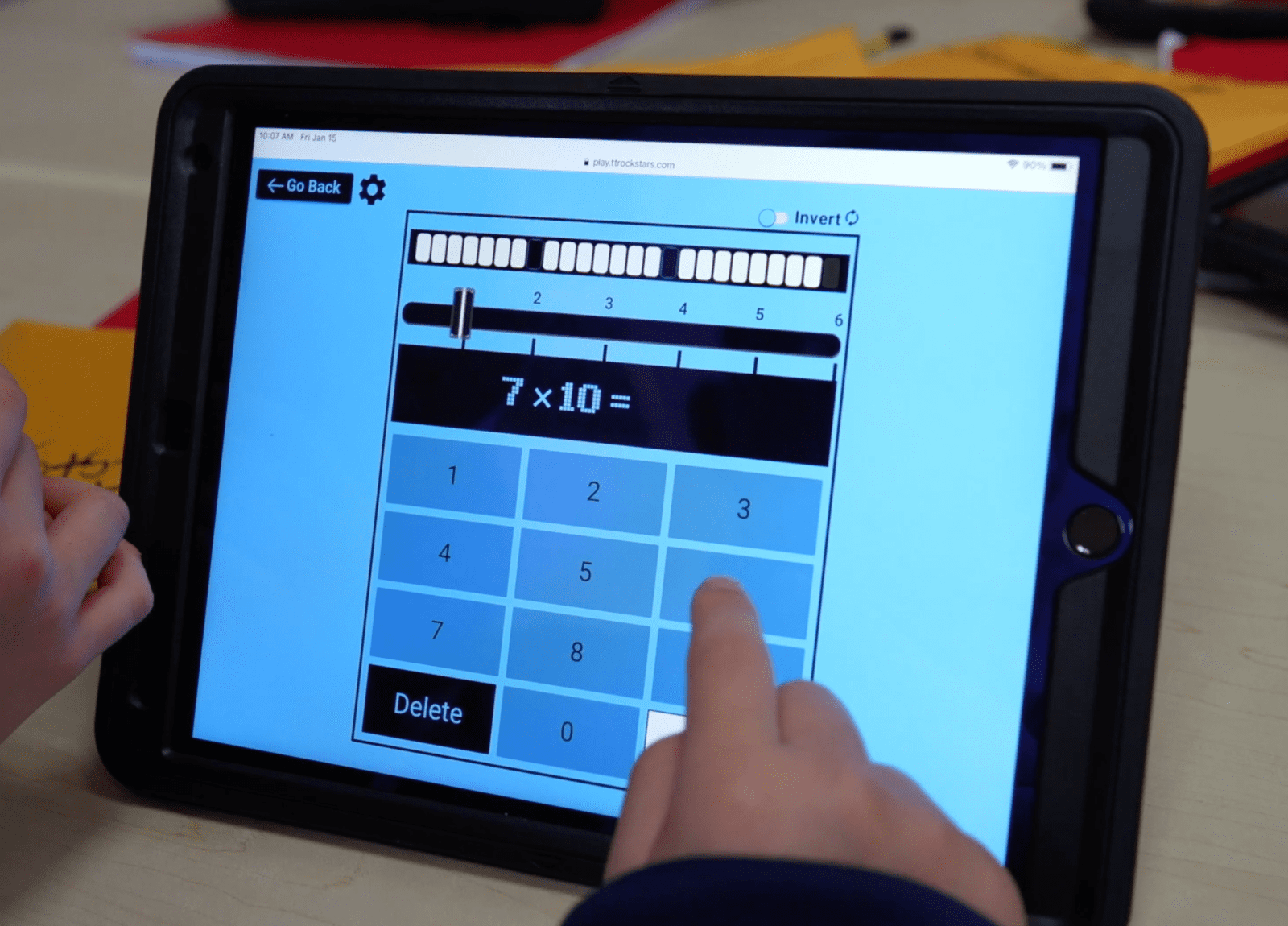 Singaporean approach
Our specific pedagogical approach is informed by the Singaporean model which has been consistently recognised as the best in the world at nurturing young mathematicians who are adept at reasoning and problem solving.
The Singaporean approach focuses on mastery achieved through the intentional sequencing of concepts. Some of the key features of the approach include the CPA (Concrete, Pictorial, Abstract) progression, number bonds, bar modeling, and mental math.
(C) concrete - using manipulatives
(P) pictorial - drawing their thinking
(A) the last step is abstract representation
"If a child can explain their understanding, it shows they really know it," explains Mr Underhill. "We would much rather have diagrams and explanations and the wrong answer rather than the right answer with no explanation at all. That is what we mean by nurturing mathematicians of the future."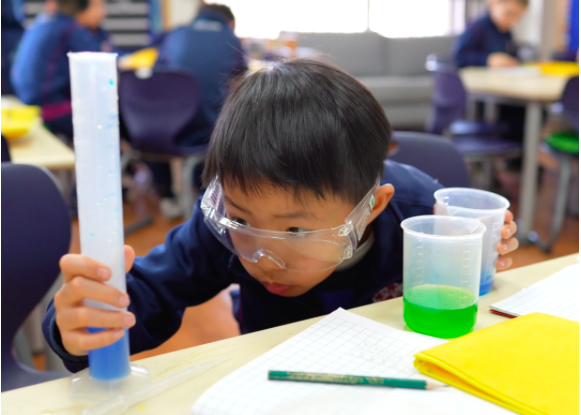 Through this approach, children develop core skills of cognitive ability, independence, and self-regulation which are critical to their success as they move on to Senior School.
"It is easy to accelerate through the curriculum too quickly," explains Mr Underhill. "Just because a child might be very fluent or speedy, it doesn't mean they have a deep understanding of how to use and apply strategies in problem solving and reasoning contexts."
The SASMO competition is specifically designed to challenge problem solving abilities and to develop mathematical intuition and reasoning, as well as logical, creative and critical thinking.
How can parents help?
Parents play an important role in their child's mathematical learning journey and there are several ways they can help.
One common trap parents fall into is telling their child to "just do it the way I was taught it." It is important to embrace the fact that there's not just ONE way to do a problem. Instead, challenge your child to find other methods and then have them explain to you how they work.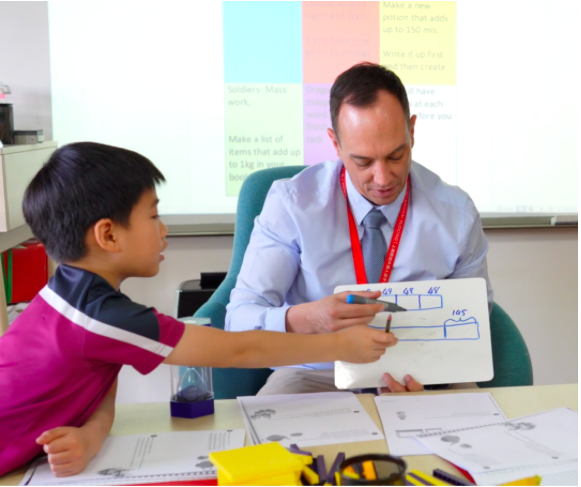 It is also important to understand there is a difference between being able to complete a problem quickly versus having a deep understanding of it. This misconception often leads parents to believe that doing advanced maths is a measure of "success".
It is much more important for a Year 4 student to have a deep understanding of Year 4 maths with no gaps, than to be able to do arithmetic at a Year 8 level. Praise your child for having mastered the maths appropriate for their year level rather than pushing them into more advanced maths.
"Maths is a subject that is aimed at solving the world's problems. Maths will lead us into the 21st century," Mr Underhill concludes. "We want children to be thinkers. We want them to recognise and appreciate that maths is a creative subject, not a computational subject. This way, they will be fully prepared to succeed in whatever the future brings."
Summary
Our Junior School students move through the Maths curriculum at broadly the same pace

We have adapted the Singaporean method as the basis for our pedagogy

Our focus is on mastering problem solving and reasoning at a deep level