Meet Our Graduate Who Achieved a Perfect 45 on the IB
Dulwich College Shanghai Pudong Class of 2023 graduate Shu Yong Tan was one of less than 200 students globally to receive full marks 45 on her IB examinations this year, a truly remarkable achievement!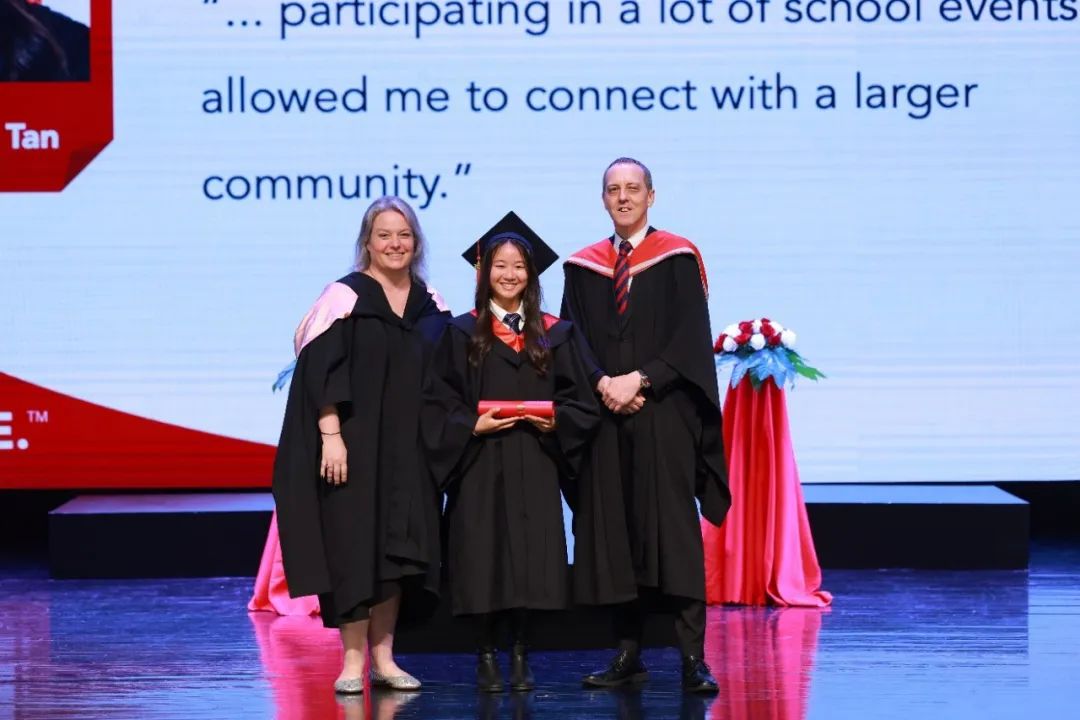 Shu Yong spent her entire academic career at Dulwich Pudong starting at DUCKS in 2008.
She is currently in her first year at Nanyang Technological University in Singapore on full scholarship pursuing a double major in Environmental Earths System Science and Public Policy and Global Affairs.
For Higher Levels Shu Yong took Biology, Geography, and English; for Standard Levels she took Maths AA, French B, and Economics. Her Extended Essay was an analysis of Carol Ann Duffy's poetry revealing violence and transformations and how this consequently offers women a renewed approach to empowerment within a patriarchal society.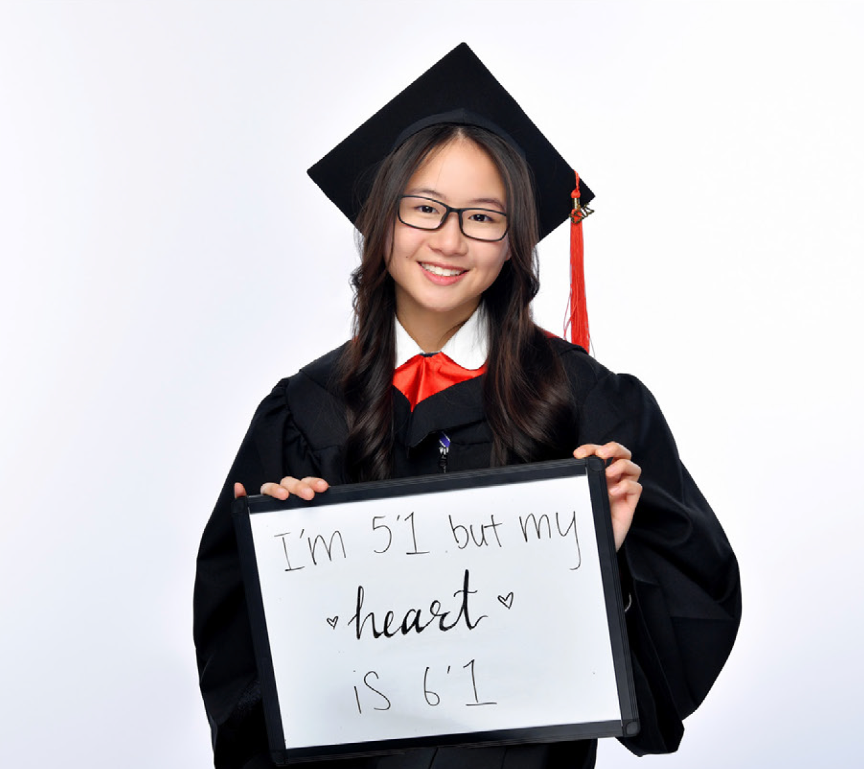 "Hope for the best and expect the worst"
Like many 45ers, Shu Yong didn't start her IB journey with what you would call invincible confidence. "I didn't really believe I had the capability to achieve a 45," she shares, "but as the saying goes, hope for the best and expect the worst. 45 was definitely the dream, but the goal I set for myself was 38 and above."
You might expect that this 45er spent all her time buried in books. This was definitely not the case with Shu Yong. She took full advantage of the holistic educational opportunities at Dulwich Pudong and was heavily involved in a number of extracurricular activities.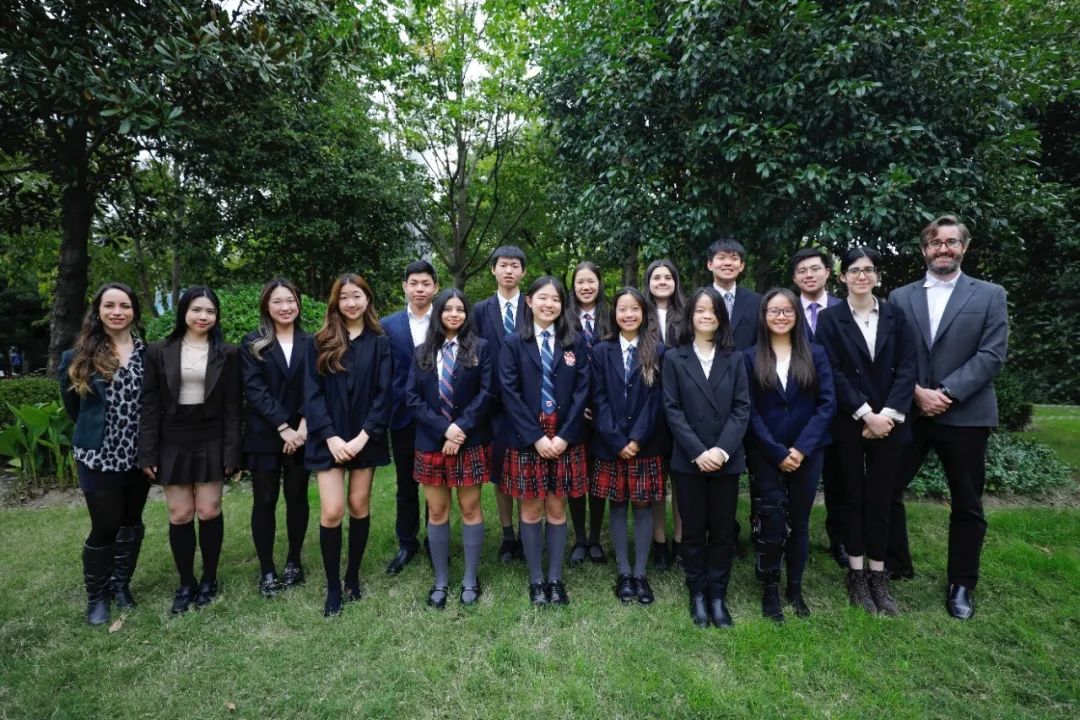 Shu Yong helped organise the One Voice Summit
Global Citizenship and service learning was a big part. She was a Global Citizenship Prefect, coordinator for the Sustainability Club, and Co-Leader of the PAW Co-Curricular Club raising funds for animal rescue. She was also involved in the College's longstanding partnership supporting The Peace Centre in Uganda. She also played competitive sports for many years, mainly netball and volleyball, and found great value in being part of the team.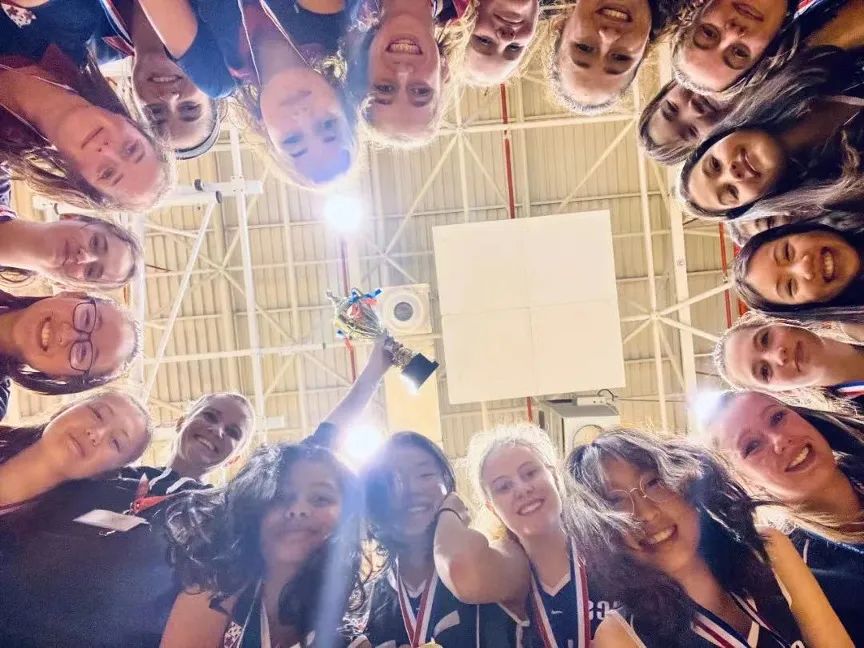 Shu Yong celebrates a netball championship
Balancing extracurriculars was relatively easy for her. "I didn't see them as duties and obligations. They were opportunities for me to unwind and focus on other aspects of my life. Extracurriculars also allowed me to apply what I was learning in real-world situations, and helped me to recognize the relevance of my learning."
In the classroom, Shu Yong was an outstanding student propelled by an inner engine of self-motivation. "I consider myself an inquisitive and passionate learner. I actively engage in a diverse range of activities driven by a genuine interest in each of them, rather than external expectations or pressures."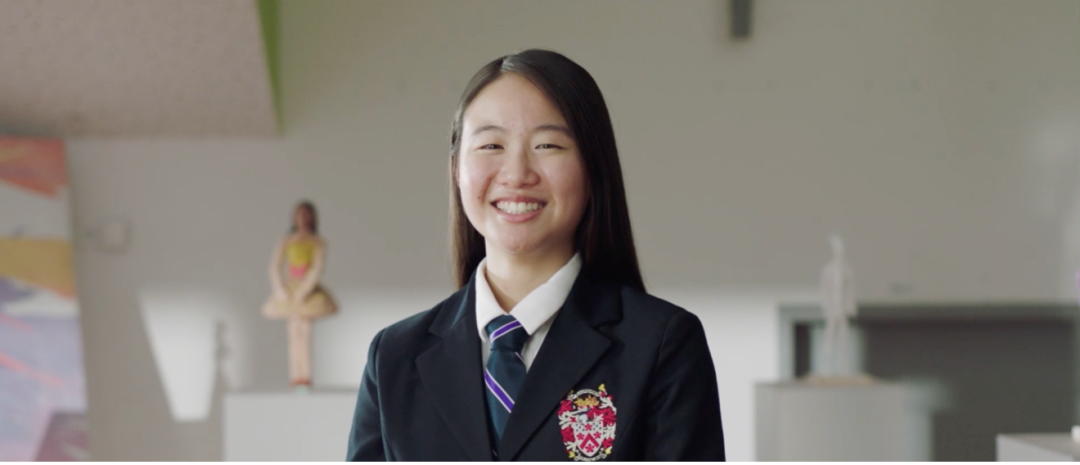 A perfect score of 45, ultimately, is the result of the individual student's efforts, but at the same time, excellence is not achieved in a vaccuum. She was supported every step of the way by her teachers, her family, as well as her fellow IB students.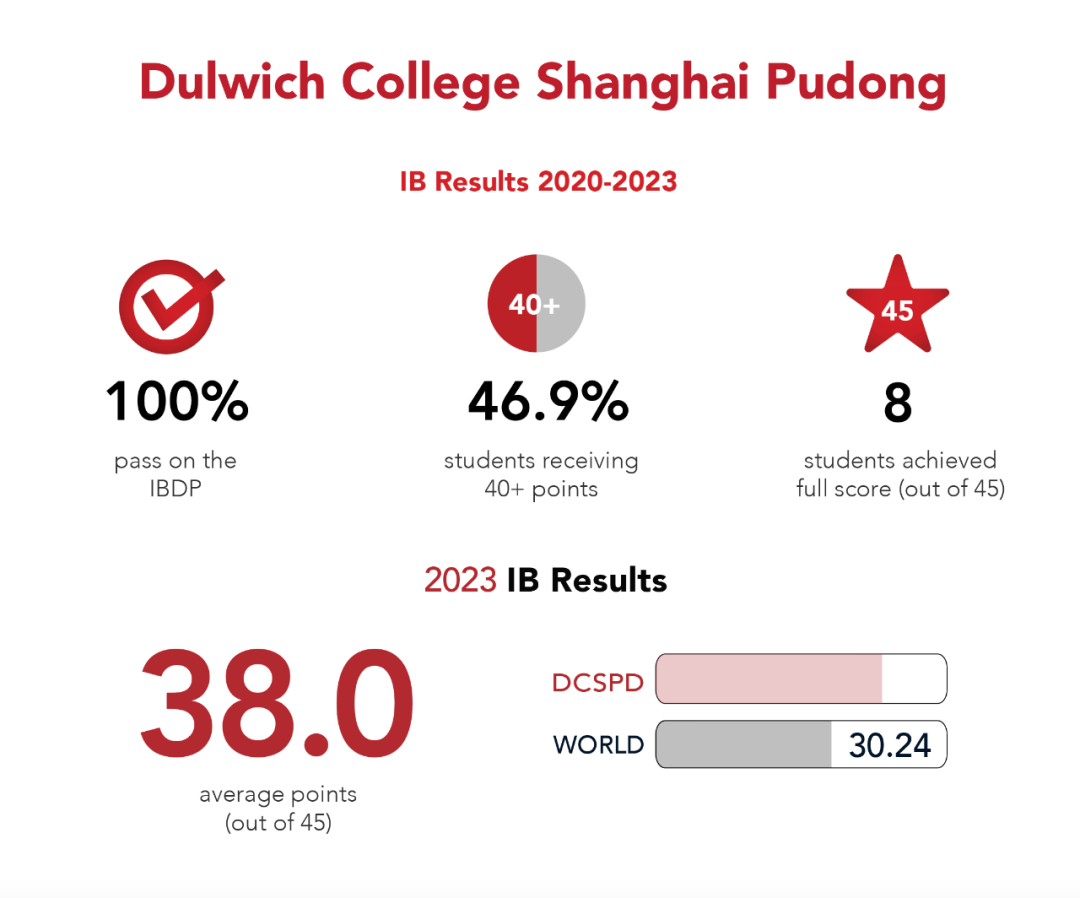 "All of my teachers were really helpful," she shares. "They all hosted additional study sessions and were always eager to help me outside of class if I asked. They were also patient with my queries, no matter how simple. I'd especially like to express my appreciation to the Geography Department for their extra support during IB."
Her parents and siblings also played an important role: "My family supported me by understanding that whatever I was doing was my best work. They didn't push for me to get a 45, just that I gave my best to each exam and each work that I submitted. This allowed me to establish more reasonable objectives and expectations without putting too much pressure on myself."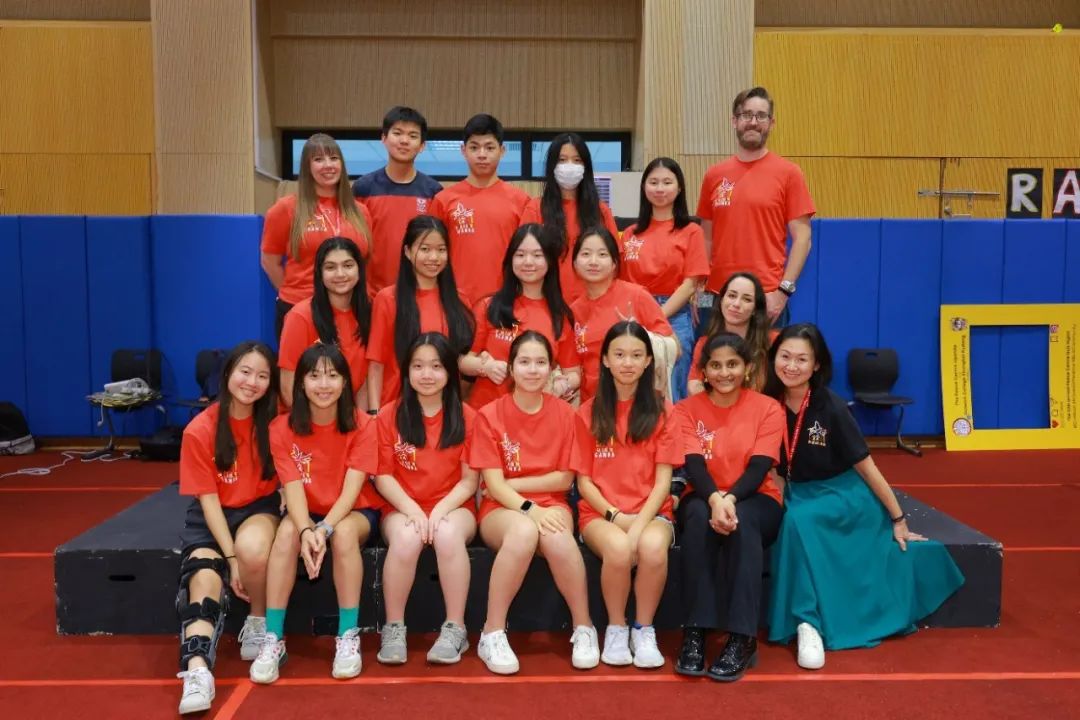 Volunteering at the Peace Centre Quiz Night
Finally she credits the collaborative environment created by her peers. "My peers and I helped each other by regularly checking in on one other and making sure we were mentally and emotionally well. IB is quite exhausting, and being able to communicate with friends about the problems and obstacles we were encountering was extremely beneficial."
"When I started the IB, I had no clue what I wanted to do"
The challenge of the IB is legendary and successfully managing the stress is one of the core skills IB students gain which prepares them for the demands of university and the world of work beyond. Her support network played a huge role in this regard.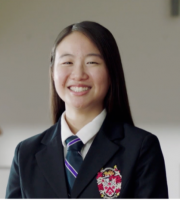 Whether with teachers, friends, or family, sharing and being open helped me to obtain support rather than having to work on it alone.
- Shu Yong Tan, Class of 2023 Alumni
"Whether with teachers, friends, or family, sharing and being open helped me to obtain support rather than having to work on it alone. I dealt with the stress by making sure I spent time doing things I enjoyed or taking time to not have to worry about anything, such as taking 10 to 20 minutes out of my day to walk my dog, which helped me reorganize my thoughts before diving back into work."
Achieving a 45 is never easy - on average it is achieved by less than 1.5% of examination takers worldwide - and we must point out the even greater level of challenge for the Class of 2023 in Shanghai which was heavily impacted by COVID including the 2022 lockdown. Through it all Shu Yong remained positive.
"When I started the IB in Year 12, I had no clue what I wanted to do, who I wanted to be, where I wanted to go. I found strength telling myself that wherever I will be was where I was meant be. It didn't matter if I didn't get into a university or whether I got a bad score, it was all right; at least I tried my best."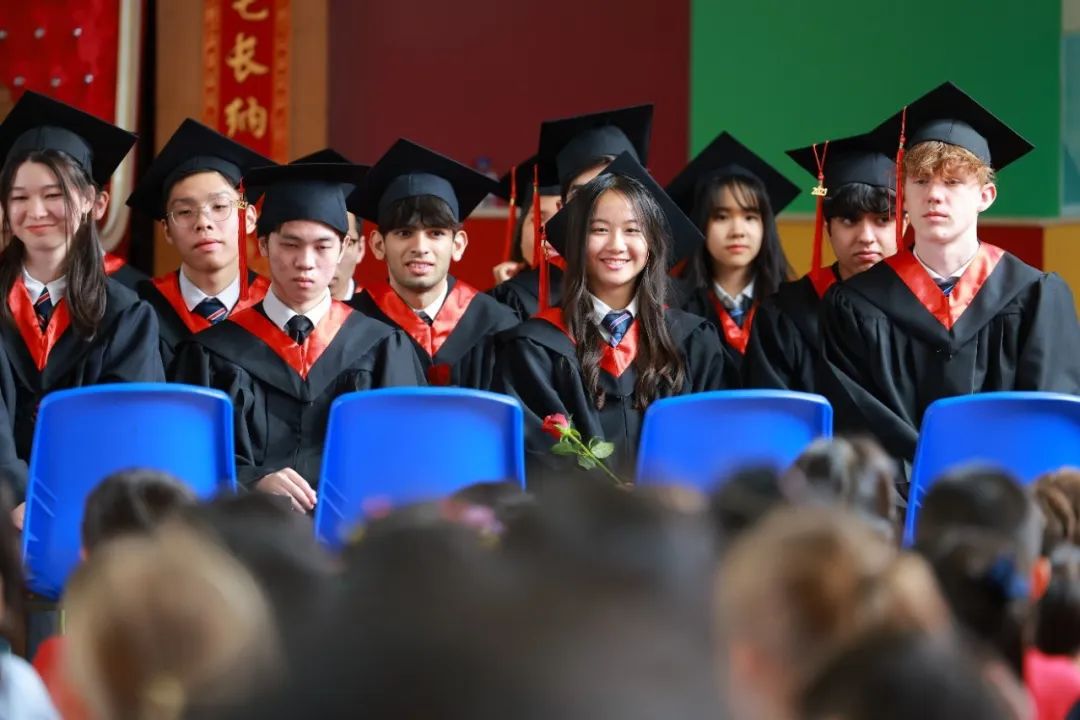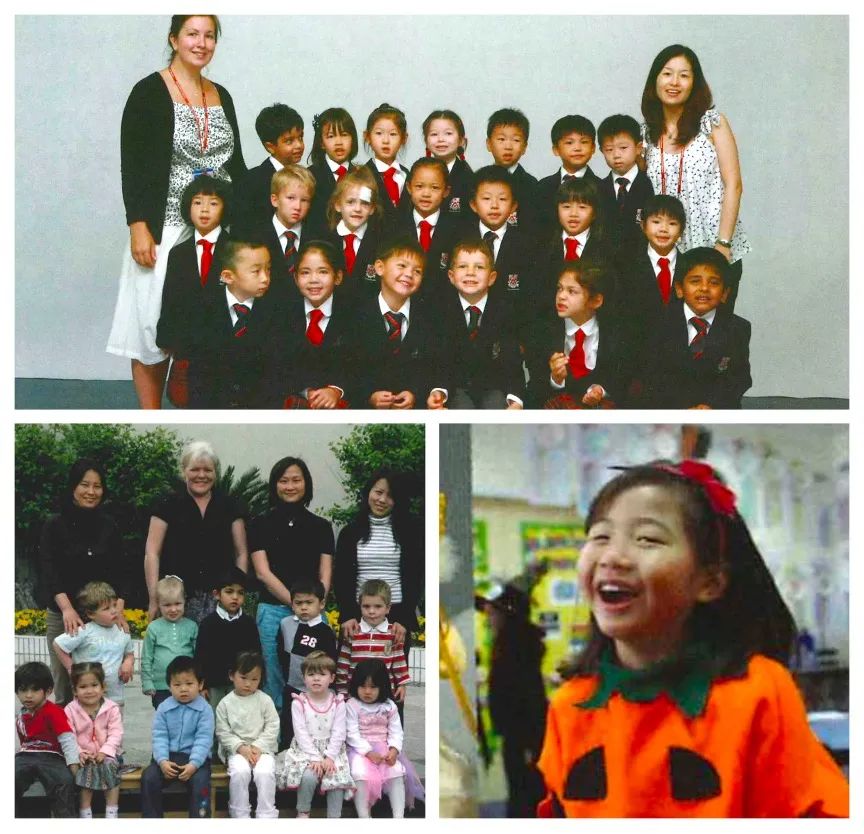 As part of the traditional Alleynian Walk for Graduation Day, Shu Yong returned to DUCKS
When she found out that she had entered into the exclusive club of full marks 45ers, she was overjoyed. "We all screamed when we saw the results because we couldn't believe it and I kept on refreshing the page to check. My family was so proud of me, and we celebrated after receiving the results."
This outstanding graduate is keeping her feet on the ground. She advises other students: "Take care of yourself and just try your best, don't compare yourself to anyone else because everyone is on a different path."
Even as she moves on to the next phase of her studies, she continues to embrace our College vision of Live Worldwise. "Live Worldwise is about connecting with not only an international community, but to find where you belong in the world. It doesn't matter how insignificant it feels, you can make a difference in the world and that to me is living worldwise."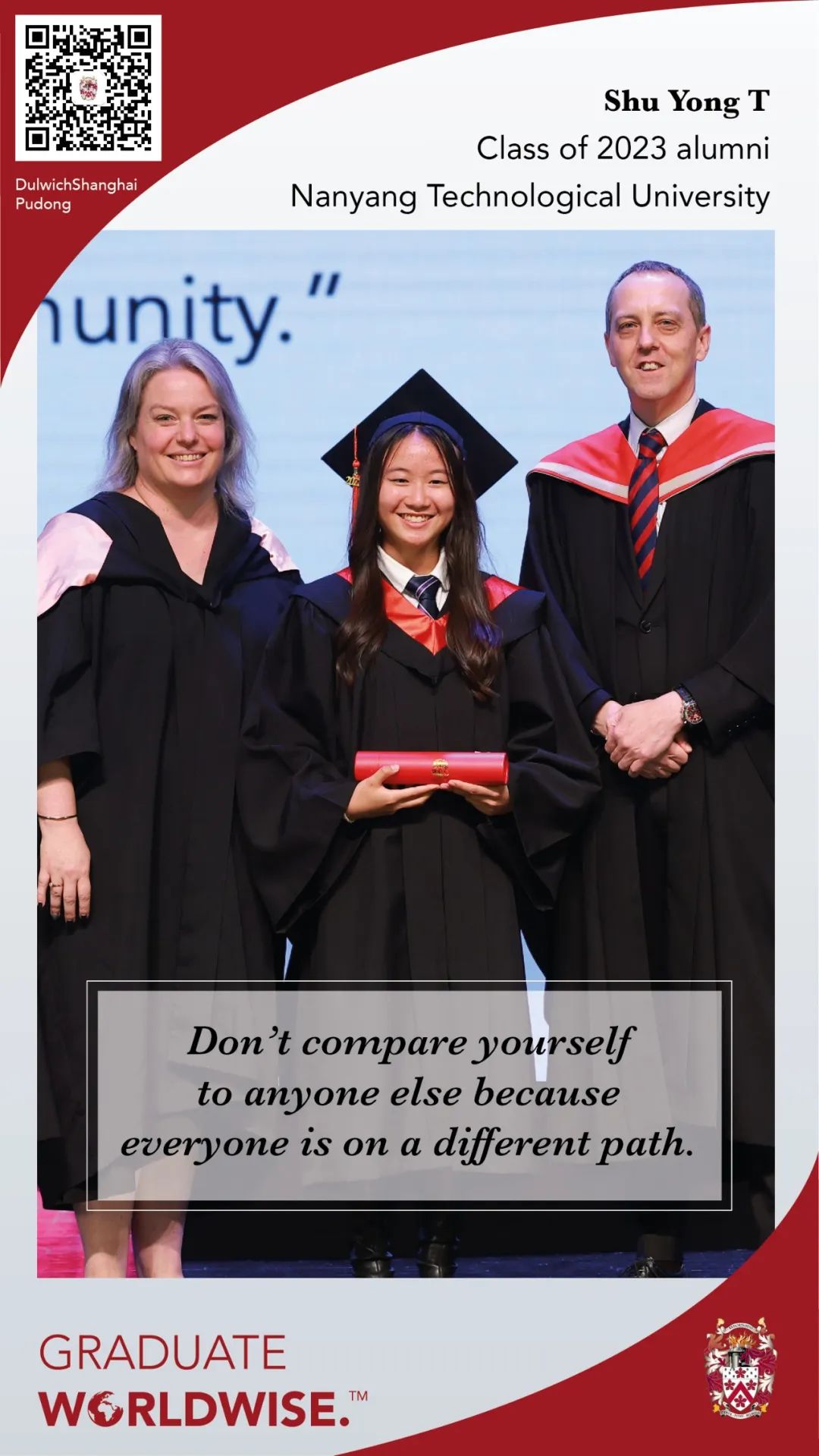 If you'd like to find out more about IGCSE at Dulwich Pudong, please join one of our upcoming Senior School Open Days. Please click this link to know more and scan the QR code below to register.