Raising the Bar for Our Chinese Native Language Pathway Students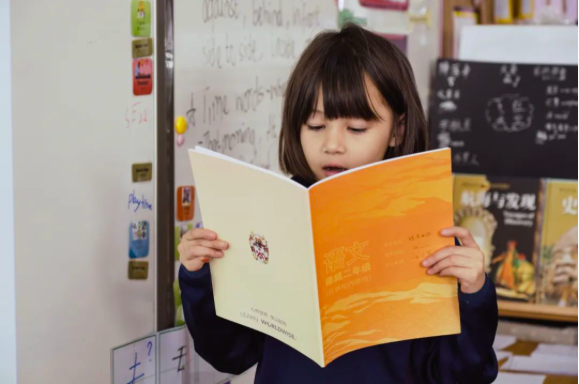 Mandarin language learning is very important to us at Dulwich Pudong and we are continually making investments in and improvements to the programme.
This school year we introduced a new textbook for our Chinese Native Language (CNL) pathway students in DUCKS (Year 1 and Year 2) and Junior School (Years 3-6).
The new textbook represents another step forward in providing our young CNL learners the absolute best language education possible within the parameters of our holistic education philosophy. It lays a solid foundation for success in the IB and attainment of lifelong Chinese excellence.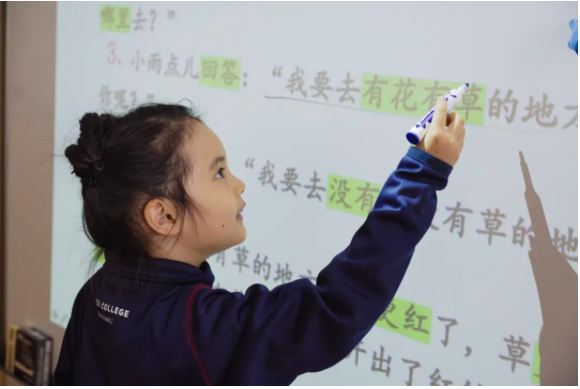 Chinese language learning at Dulwich Pudong is personalised to students via three main pathways: CNL (typically for students whose home language and heritage is Chinese), MSL (Mandarin as a second language, typically for students who have lived in China for a long time or have one parent who is a native language speaker), and MFL (Mandarin as a foreign language, typically for students who are learning Chinese for the first time).
Our CNL pathway has five main competency objectives:
High standard of reading and writing Chinese
Genuine love of reading Chinese literature
Chinese writing skills across a variety of genres
Critical thinking / research skills in Chinese
Cultural fluency
The new textbook culminates a long process of research and preparation. It incorporates much of the same material as the Chinese National Curriculum textbook, but edited and re-organised in an entirely different way - by genre.
This helps immerse students into the text type so that they gain deeper understanding of literary and literacy features thematically and also ensures that each unit has a clear purpose, in keeping with our College's core Learning Principles.
The new approach helps our CNL students to get the absolute most out of their Mandarin learning time by giving them more of what they need and less of what they don't.
​Annabel Parker, Director of Mandarin at Dulwich College International, shares, "The National Curriculum textbook has its strengths, but it is intended to prepare students for the zhongkao and gaokao exam, whilst we are preparing our students for the IB Diploma Programme. Naturally there are going to be different needs."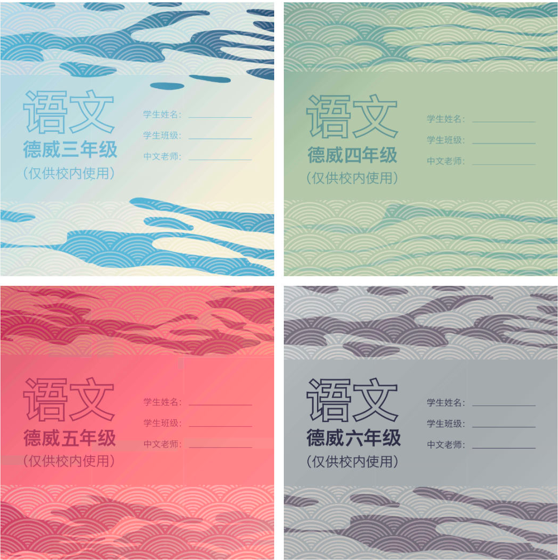 The new textbook enhances the material our CNL students are exposed to and includes more literature, poetry, and ancient Chinese texts. Each text has been purposefully selected to introduce a greater range of Chinese writings in a variety of genres. Together, the new textbook and the curriculum around it raise the bar for what we expect our CNL students to achieve.
The new curriculum sits squarely within the context of our inquiry method as well as P4C (Philosophy for Children) pedagogy which fosters 21st century skills such as independence, creativity, and critical thinking.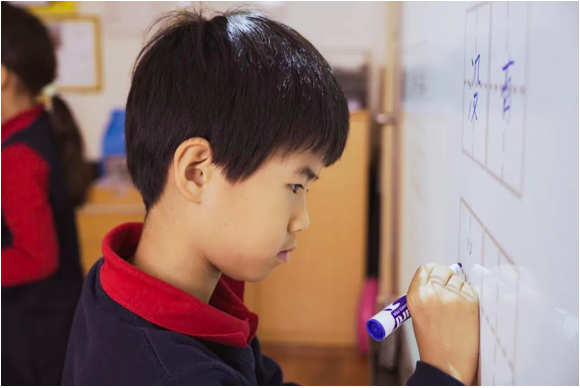 Instead of emphasising the rote memorisation of texts, our programme fosters a genuine enjoyment of reading whilst preparing students for the Senior School Mandarin curriculum and the IB beyond. The CNL curriculum also connects to other parts of the curriculum so that students have opportunities to apply what they have learned in different contexts.
The new textbook has also been key in solidifying the home-school partnership. Our parents have a clear understanding of where their child is in the Mandarin learning journey and how they can best support them.
After almost a full academic year of implementation, the results have been very encouraging. Our teachers have received an overwhelming amount of positive feedback from both parents and students. We also see our CNL students making significant improvements in:
applying characters in different contexts
long-term vocabulary retention
increased confidence
increased interest and passion for reading and writing Chinese
"Parents have high expectations for their children," says Vivi Bian, Head of Mandarin at DUCKS. "The new textbook and curriculum design has been very well received. It has greatly enriched our students' experience."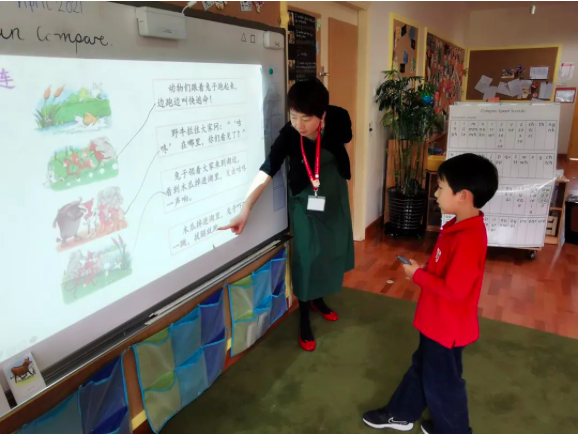 "Beyond investing in the curriculum, we have also created more holistic opportunities for our Junior School CNL students such as the Dulwich New Voice Competition held in Term 2 and the new Chinese drama CCA," shares Tingting Zhu, acting Head of Mandarin in the Junior School. "We will continue to add more opportunities in the coming academic year."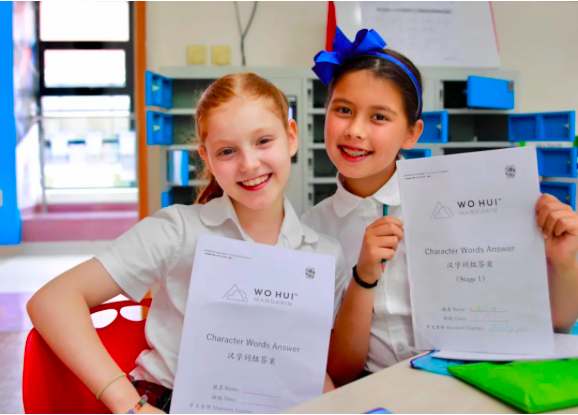 Our CNL pathway will continue to be supported by the proprietary Wohui online learning platform created by Education in Motion (EiM), our parent company. Wohui powers not only our teachers but also our students across all three of our Mandarin-learning pathways.
Teachers are able to use it to access curriculum material, saving them valuable time which they can instead invest into students. Students are able to get immediate feedback from the platform's AI functions as well as take advantage of a vast amount of personalised supplementary materials to further their learning journey.
"Wohui sets Dulwich apart from other international schools for Mandarin teaching and learning," says Ms. Parker. "Leveraging the experiences, data, and best practices from across the Dulwich family of schools, Wohui gives our Mandarin learners a big advantage in attaining fluency."