Student Reporters: "We help parents understand the workings of Dulwich life"
What goes on behind campus gates? Students, as always, know best.
This year Student Voice Reporters in Senior School and Junior School have taken up the task of helping our parents know more about what's going on at the College. As Year 9 Student Voice Reporter Yashvi K explains: "We help parents understand the inner workings of Dulwich life."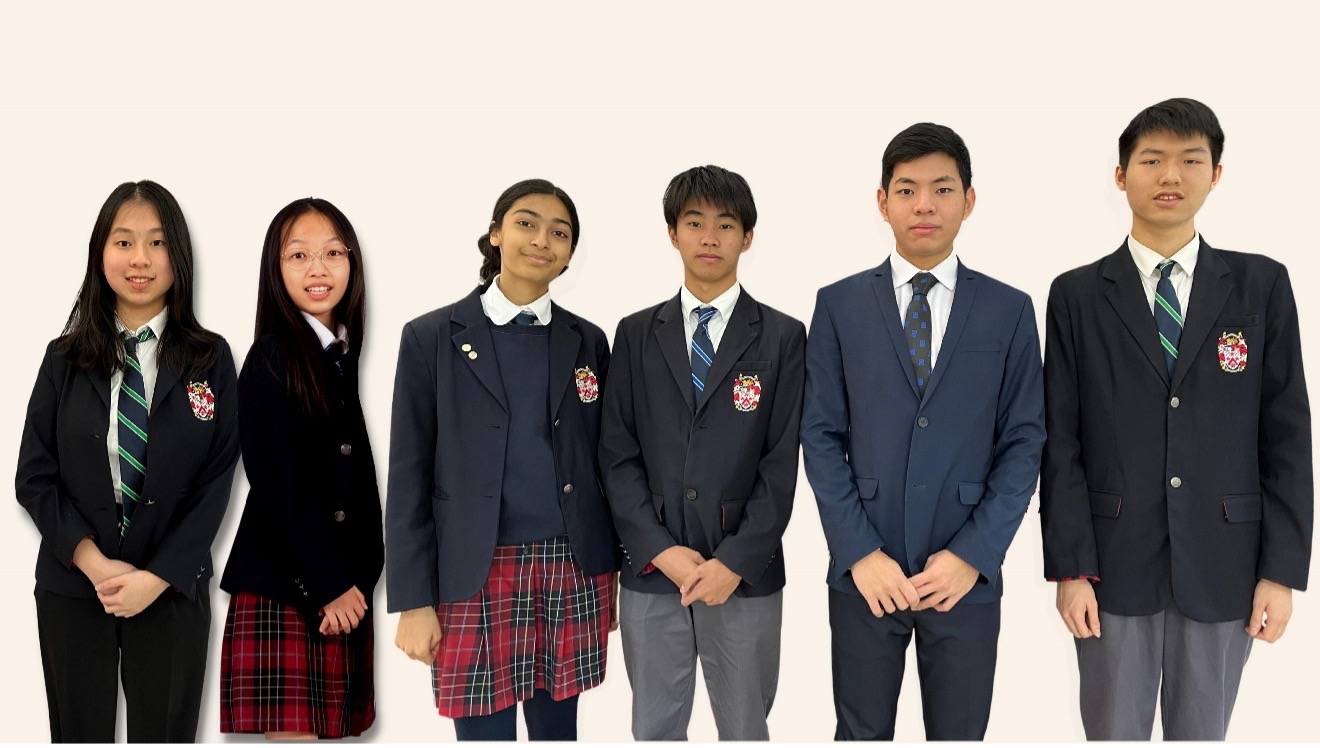 Senior School Student Voice Reporters: Elissa F, Diane Y, Yashvi K, Rhyder Z, Terry W, Michael G
Year 12 student Terry W started the Student Voice Reporters CCA as an initiative to report on the "outstanding talents, events, and Dulwich school life that was often overlooked." Their goal is to create a consolidated Dulwich student publishing platform showcasing authentic voices from all corners of College life.
Whether that is interviewing teachers or guest speakers, or covering sports, debate tournaments, and even field trips, the Student Voice Reporters raise greater awareness about school issues which matter to students whilst also showcasing the amazing opportunities DCSPD offers.
Currently the team consists of 6 students. Together they identify stories of interest, collect background information, carry out interviews, take all the photos, do all the writing, editing and proofreading and then lay out the final piece of reportage for publication.
And this is not a simple article we are talking about, rather it's a multipage PDF complete with advanced design and layout - almost like a mini-magazine! - which is shared to the community via the weekly Dulwich Voice newsletter.
Here are a few of examples the team published in Term 1.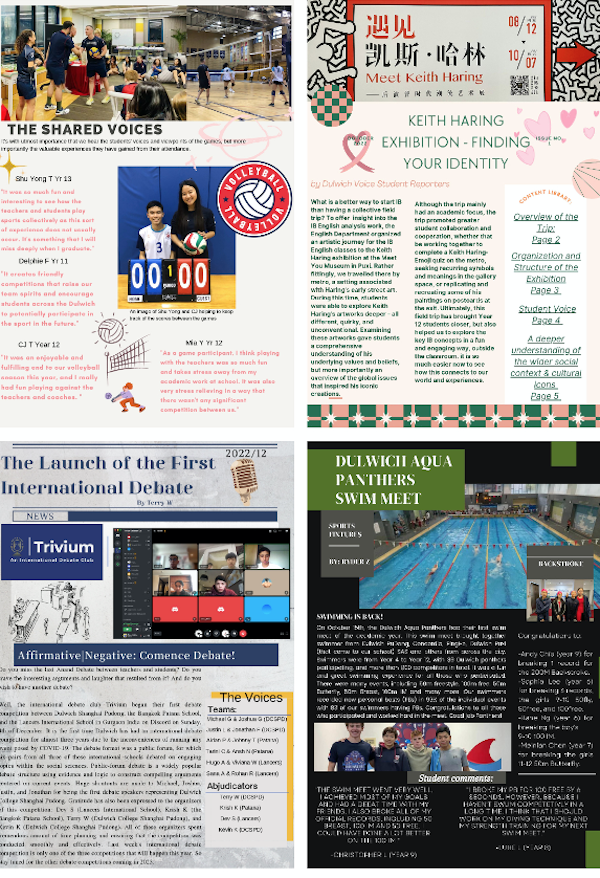 The Junior School team consists of 4 Student Voice Reporters. They have chosen to look at Junior School through the lens of Global Citizenship. Their publication is called the Global Citizenship Weekly and it is shared to parents through the Junior School weekly blogs.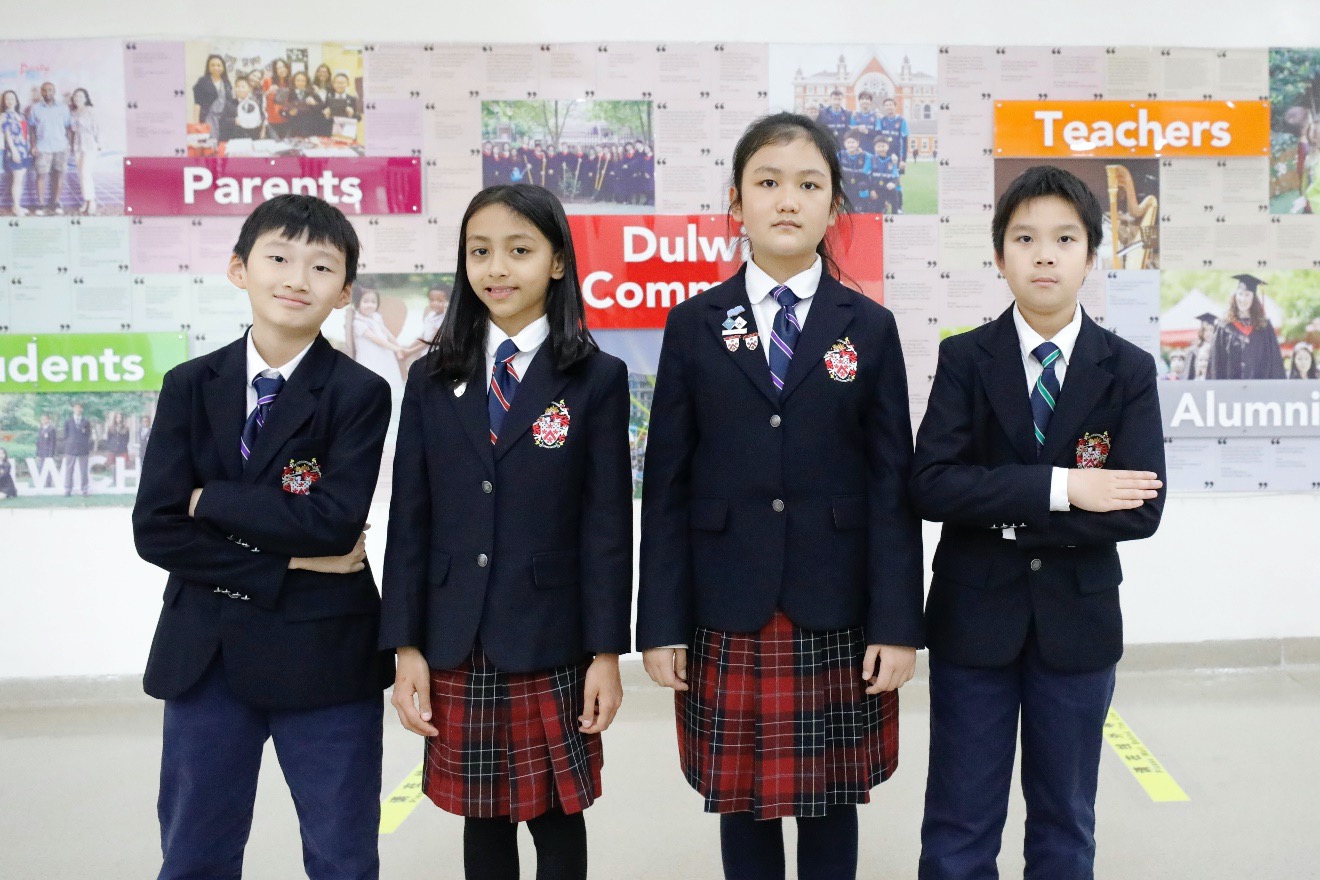 Junior School Student Voice Reporters: Yinshun X, Amiya L, Luna J, Jadon W
Here are a few highlight examples from Term 1: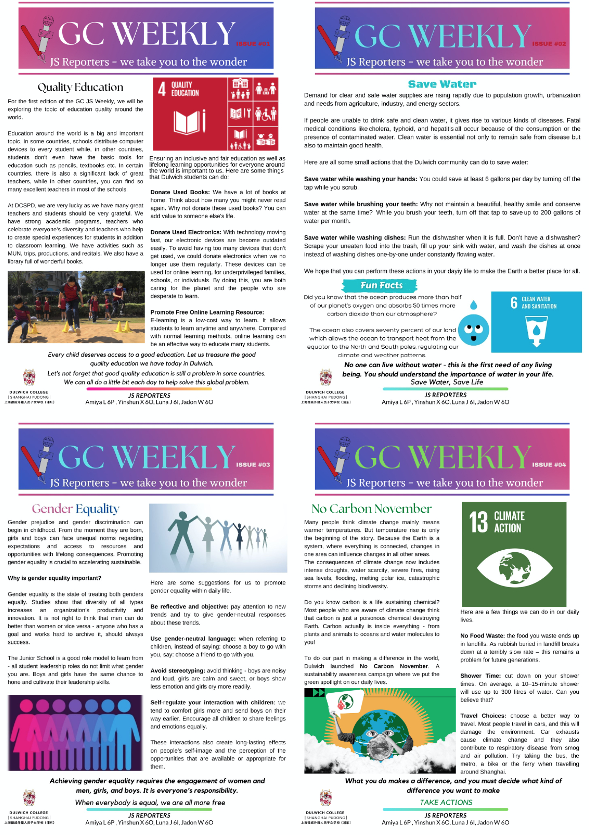 Their main challenge is balancing the daily schedule with the newsletter deadline. "We are constantly refining each member's tasks to better organize our time," the students tell us.
All of the Student Reporters gain valuable experience in journalistic writing, editing, meeting deadlines and working productively within a team.
Ms Nicola Ball, Head of English at Dulwich Pudong, is the faculty sponsor for the SS Student Voice Reporters and she shares, "It's great to see the Student Voice Reporters developing their skills in a real-world context. Not only do they have to work as a team to a deadline, but their work needs to be measured against a genuine professional context. This is great preparation for the future."
The response from their peers has been enthusiastic.
Terry shares, "Feedback from Senior School students has, overall, been positive. Some students have even told us they want to join our journalism team in the future."
In Junior School our team shares, "Students enjoy reading the GC Weekly and it is a great way of finding out more information on Global Citizenship."
Both teams have a clear roadmap for future development. Our JS Reporters are looking "to increase the impact on Global Citizenship and to get involved in the off-campus events if possible."
Meanwhile in Senior School, Terry shares, "Our hope is to expand our club outwards and establish a consolidated publishing platform across all Dulwich colleges in Asia. We have already got a few other Dulwich schools who are willing to help out already; we just need to get a few more schools on board."
Look out for more from our Student Voice reporters coming in Term 2!