This Class of 2014 Alumni Is Blazing a Trail in Health Care
Since graduating from Dulwich Pudong in 2014, Candy Gan has blazed a path in global health care. She has already worked in both the public and private sectors and co-authored her first book all advocating for improved patient-centered health care.
"Being part of the open-minded DCSPD community during my studies definitely contributed to where I am today," Candy shares.
Discovering What is Possible
Candy entered Dulwich College Shanghai in Year 6. She enjoyed the sciences in her younger years and explored more broad-based courses in the IB Diploma Programme, choosing English Language & Literature, Economics, and History for her Higher Levels.
It was through participation in Co-Curricular Activities (CCAs) and her IB CAS project that Candy stretched her thinking and discovered new interests. She served as Creative Prefect, was a member of Senior and Chamber Choirs, and learnt fencing.
Inspired by the film Pitch Perfect, Candy ventured into new territory by launching the College's first acapella choir for her CAS project. The result was Singchronised.
"Not only did DCSPD not have a group like this, but I also hadn't led such a project before. At the start, I didn't know whether we would have gotten many opportunities to perform."
Not only did Singchronised perform at College events such as Founder's Day, Winter and Spring Concerts, and the d'Oscars, it went on to record two albums.
Singchronised wouldn't exist today without the commitment from fellow passionate group members – both past and present – and invaluable support from DCSPD staff.
-Candy Gan, Class 2014
"CAS really helped me to develop skills in planning, organising, and leadership," Candy reflects. "In the early days, it was definitely more challenging to start something new, but Singchronised wouldn't exist today without the commitment from fellow passionate group members – both past and present – and invaluable support from DCSPD staff."
In mid-2014, Candy and a few of the Singchronised members travelled to Nepal to teach under-privileged children English through music, donating the funds from CD sales as well.
Candy reflects, "CCAs and my CAS project were great ways to explore new interests. I built confidence in trying things where I had had no prior experience. I highly recommend that all students turn up, be present, and at least try a new activity. You may surprise yourself in what you can accomplish!"
Ten years later, Singchronised is still going strong at the College.
Finding Her Path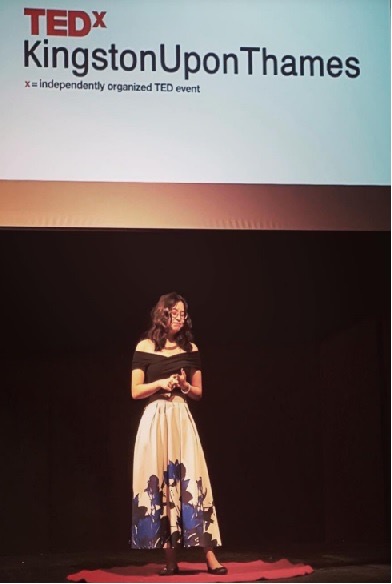 After graduation, Candy moved on to the prestigious London School of Economics and Political Science (LSE) where she earned a Bachelor's of Science in Politics and Philosophy, and a Master's of Science in Global Health Policy.
Candy attributes this educational path to her personal experience living with Type 1 Diabetes (T1D).
As a graduate student, Candy volunteered for charities serving people with diabetes, and for her dissertation she investigated the transfer of self-care responsibilities from parent to child within T1D families. She also served as a research assistant for Professor Martin Knapp, looking at the economic costs of Alzheimer's and maternal mental health.
Candy gave two TEDx Talks during her years in London in which she advocated for patient-centred care, using her personal experience in managing Type 1 Diabetes since she was a toddler as an example.
These TEDx Talks, "Accountability is Not Responsibility" and "Patient-Centered Care Systems: A View from Chronic Illness" champion her strong belief that health systems can align with patients for better long-term success.
Addressing an audience of 450 people, Candy shared her experience from years of self-care and management of Type 1 Diabetes, which constitutes up to 10% of all cases of diabetes.
Making Her Impact
Candy's career path began in the public sector when she repatriated to Singapore and worked for the Singapore Ministry of Health in healthcare services regulations. Her employment coincided with the COVID outbreak, giving Candy the opportunity to step in and serve on the front lines during a time of crisis.
She helped create two pandemic response teams for Singapore: a new fleet of trained private taxi operators who provided essential transportation for COVID patients – thereby relieving the strained ambulance services – and a national telemedicine service that supplied primary care remotely to Singapore' migrant worker population, which is now a mainstay in the government's healthcare services.
Candy then joined the Asia Pacific Medical Technology Association in the private sector, before moving to the National University Health System's (NUHS) Regional Health System office where she now works on developing better preventative and community care services and systems for the western regions of Singapore.
Writing Her First Book
Candy passion for making a difference recently led her to co-authoring her first book, the bilingual children's book "My Name is Adam. I have Type 1 Diabetes." Working closely with Cheng Yong (co-author and a founding member of typeOne.sg), the publisher, illustrator, and translator, the book was published in June 2022 with the generous support from Diabetes Singapore and other pharmaceutical sponsors.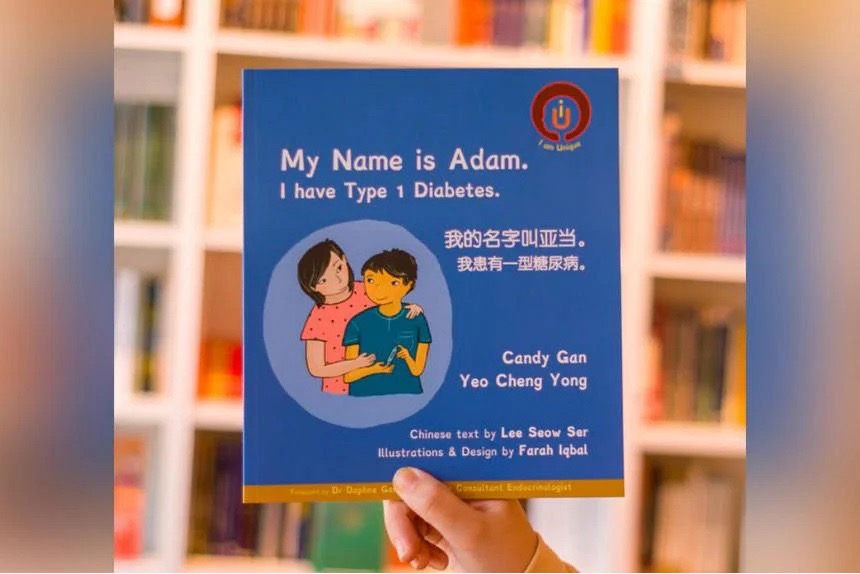 "This is the kind of book I would have liked to give my younger self," Candy shares. The book's content is based on real-life patient interviews and the authors' personal experiences, and highlights the diagnosis, challenges and learnings of living with Type 1 Diabetes.
Candy's own childhood and adolescent experience with Type 1 Diabetes was largely hidden from others, but required constant management. The book aims to be a resource for families, educators, and others in the child's support network to help understand self-management strategies. It utilises age-appropriate language for children, in both English and Mandarin.
The book is the fourth in the series "I am Unique" by Helang Books, which raises awareness of invisible conditions.
Many children and teens can struggle not only with lifestyle changes, but also the fear of social judgment.
-Candy Gan, Class 2014
"Many children and teens can struggle not only with lifestyle changes, but also the fear of social judgment and changed schooling experience once they disclose their condition," she says. "The story is localised to the Singapore context, where there is lots of room for improvement in bringing awareness to such chronic conditions."
Candy embraces opportunities to open the eyes of communities and systems to better serve people who have chronic conditions. She continues to be a part of diabetes-related volunteering in Singapore and overseas, such as being a patient leader for Diabetes Center Berne. From her TEDx Talks to the newly published children's book, Candy advocates from a personal passion and professional perspective.
Members of the DCSPD community can check out and read Candy's book, "My Name is Adam. I have Type 1 Diabetes." from the DCS College library at the start of the 2022-2023 school year.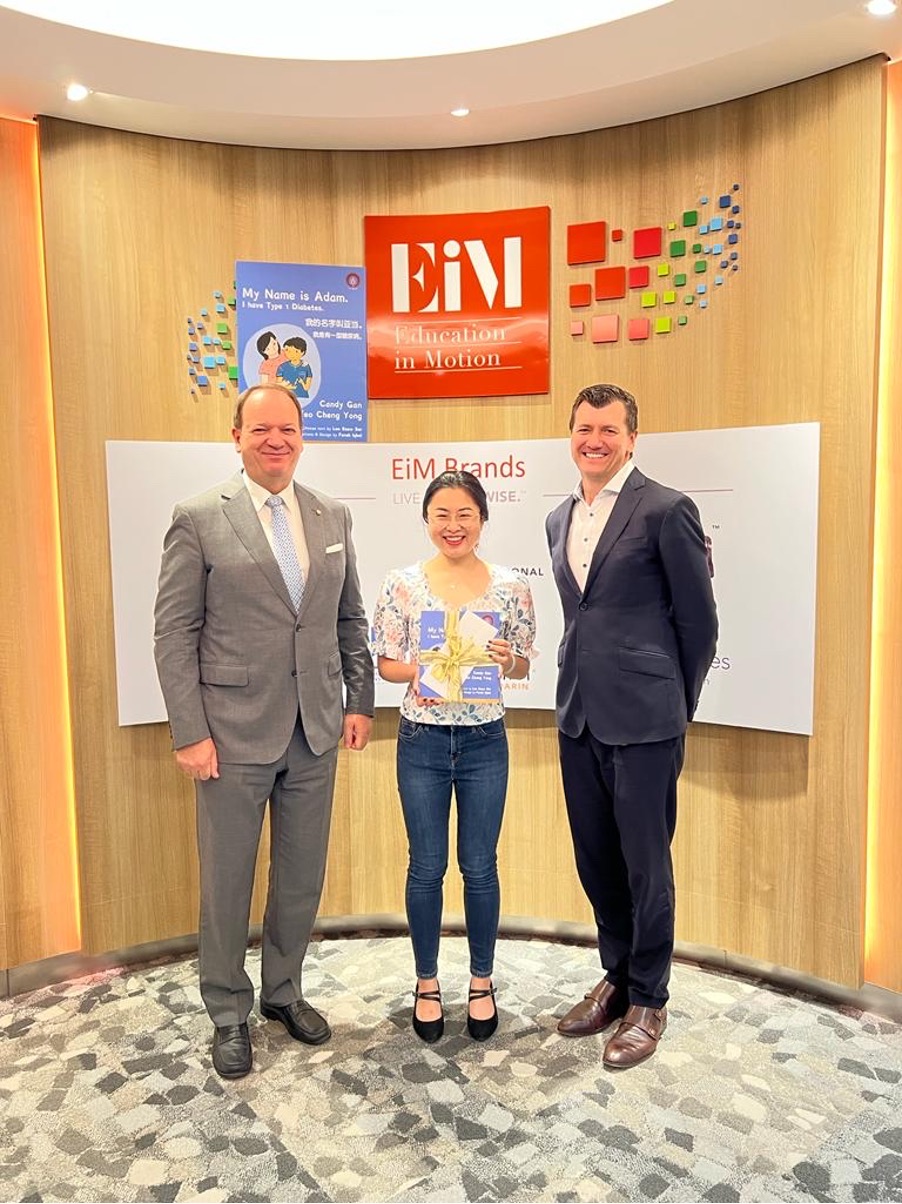 We are very proud of this Worldwise alumni and the bridges she is building leading to more effective health care in Singapore and around the world!