Tsinghua University was my best fit! - Catherine D

Congratulations on your 2020 graduation from Dulwich! Would you briefly share your background and highlights of your experience as a student at DCSPD?
I'm originally from Montreal and moved to Shanghai when I was little. I studied in Chinese local schools until I transferred to DCSPD at the beginning of Year 10. It was quite a big challenge for me to adapt to such a different environment at first, learning everything in English, making friends from all around the world. Luckily people at DCSPD were very welcoming and embracing. The EAL program, dedicated to students like me, was also really helpful and made the transition a lot smoother.
You selected Tsinghua University as your "best fit." Please tell us about your journey to this prestigious, top-tier Chinese university.
I didn't consider applying to Chinese universities until the summer before Year 13. I was aiming for universities in the UK and Canada at first, but when I visited the UK that summer, I just didn't feel the sense of belonging there. The cities were great, but the strangeness really got me thinking: is this the place I want to spend my uni life at? Is this the place I want to have my first job? That's when I realized how much I love Shanghai and how much I want to pursue my future in China. So, I started my university research on Chinese universities, and narrowed my targets down to three Chinese universities – Tsinghua, Peking and Fudan.
I eventually chose Tsinghua as my "best fit" mostly because of its great curriculum system. Different from the other two, you only need to choose your department of study for Freshman year and decide your major during your Sophomore year. It's great for students who aren't 100% sure about what major they want to study. I have taken classes taught in both Chinese and English, there are also full-English courses for students who aren't very fluent in Chinese. Each year, there're about 3,000 local and 300 international freshmen. Quite a large number of international students have a similar background of studying in an international school. The location is great too, Beijing being the capital of China is super convenient, modern and diverse. I would strongly recommend it to students considering studying in China.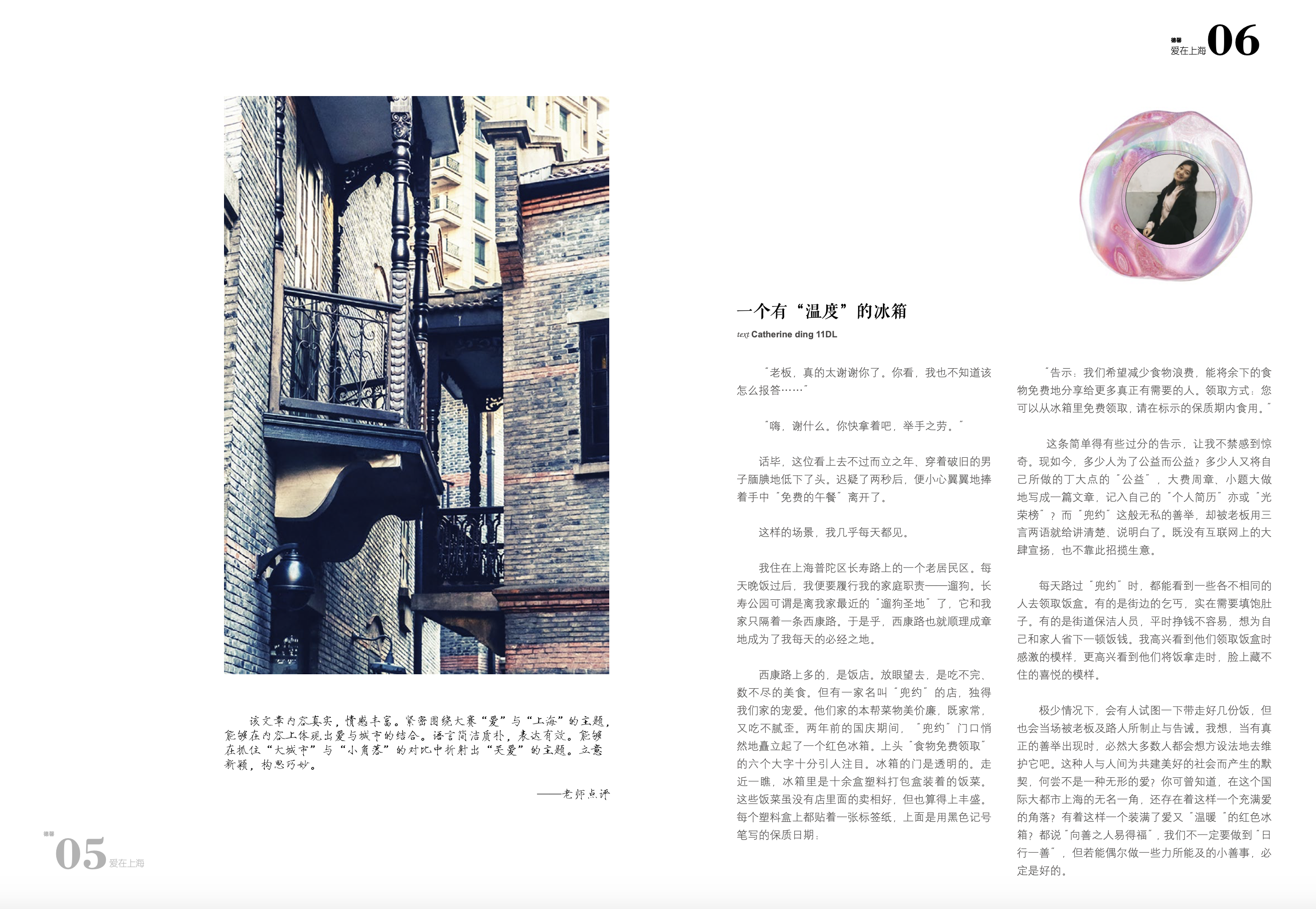 Your Mandarin ability is outstanding. How did Dulwich's Mandarin programme help you achieve and maintain native-level capabilities?
I was worried about keeping up my Mandarin ability in Dulwich before attending. The worry soon disappeared. There are classes designed for students with different Mandarin levels. I was in the first-language class, which the level of difficulty was quite close to what I was learning in local school. The Chinese Literature class I took in IGCSE also allowed me to study a lot of classic Chinese books. I took Chinese Standard Level in IB, which trains the abilities of not only reading and writing, but also public speaking. There's also a lot of extra-curricular activities where students could further improve their Mandarin skills. I worked for Dexin Magazine for two years, which is an annual collection of students' Chinese writing works. Another CCA I joined called "Knowing Your Community" also gave me the opportunities to interview Chinese workers at Dulwich and in the local community.
What was the Tsinghua University application process like?
The application documents mainly included CV, personal statement (either in Chinese or English), English test score (IELTS/TOEFL), HSK test score, high school transcript, award certificates, two recommendation letters and a three-minute self-introductory video. My university counsellor Mrs. Hutchison was super supportive and helpful throughout the entire process. The Chinese University Office Assistant Ms Julia also helped a lot on my Chinese personal statement and direct communications with the universities.
What have you decided to study at Tsinghua University? What type of career do you envision?
I'm currently enrolled in the department of Social Sciences, and after studying for the first two months, I've discovered a strong interest towards Psychology, which I never considered studying when I was in high school. I will probably choose to major in Psychology and minor in Business Administration. Curriculum aside, I developed a strong interest towards media-related areas while in Dulwich. I took IB Film Higher Level, which taught me techniques in making short films and analyzing films. Most importantly, I realized the importance and rapid development of modern media. I knew this was something I wanted to further pursue, so I joined the student union at Tsinghua to work for them as a reporter, taking pictures, writing articles and making videos for the school's social media to continue developing my skills in this area. For my career, I envision doing something media-related, possibly where I can apply my knowledge from Psychology, and also with a flexible working time.
Do you have advice for current Dulwich students who are interested in applying to a Chinese University?
Do careful research on Chinese universities. Chinese universities aren't popular choices at Dulwich, so students know very little about them. Maybe after researching you'll find out how much some programs suit you!
What does a Worldwise education mean to you?
Dulwich's Worldwise education broadens your scope. It encourages you to find out who you are and who you want to be. Dulwich is a place full of opportunities and possibilities. What I appreciate the most about DCSPD is the diversity. It allowed me to learn things from all kinds of areas and engage with people with different cultures. I think this was the key for me to find my passion and also realize my career hopes should be based on my passion.