"Ed Tech" Enhances Human Connections
The word "technology" may bring to mind machines, screens, and gadgets. But at Dulwich College Shanghai Pudong (DCSPD), we believe that the heart of educational technology ("EdTech" for short) is designed to enhance student learning and foster human connection. In this day and age, tools of technology must be both established and agile—ready to support and be adaptive for learning in any setting. EdTech maximises student-centred learning environments.
We have a strong reputation of utilising technology very effectively in the classroom and offering programmes where students get exposure to technology, such as robotics, STEAM or coding CCAs (co-curricular activities). Physical spaces like SE21, named after the postcode of the founding school and standing for STEAM, Entrepreneurship and 21st century, further encourage the use of technology for innovation whether it is through computer skills, 3-D laser printing, robotics or film.
Our teachers also need to be equipped with the knowledge and skills to deliver EdTech. In August, faculty members were presented with Professional Development provisions to attend peer-led EdTech workshops to grow and further enhance their own capabilities and learn from best practice. Workshops included topics ranging from 'Presenting with Confidence Onscreen' from the drama faculty, 'Effectively managing Breakout Rooms on Zoom' to maximise student interactions, to 'Leveraging online tools for personalised Student Assessment', as well as practical activities for blended learning.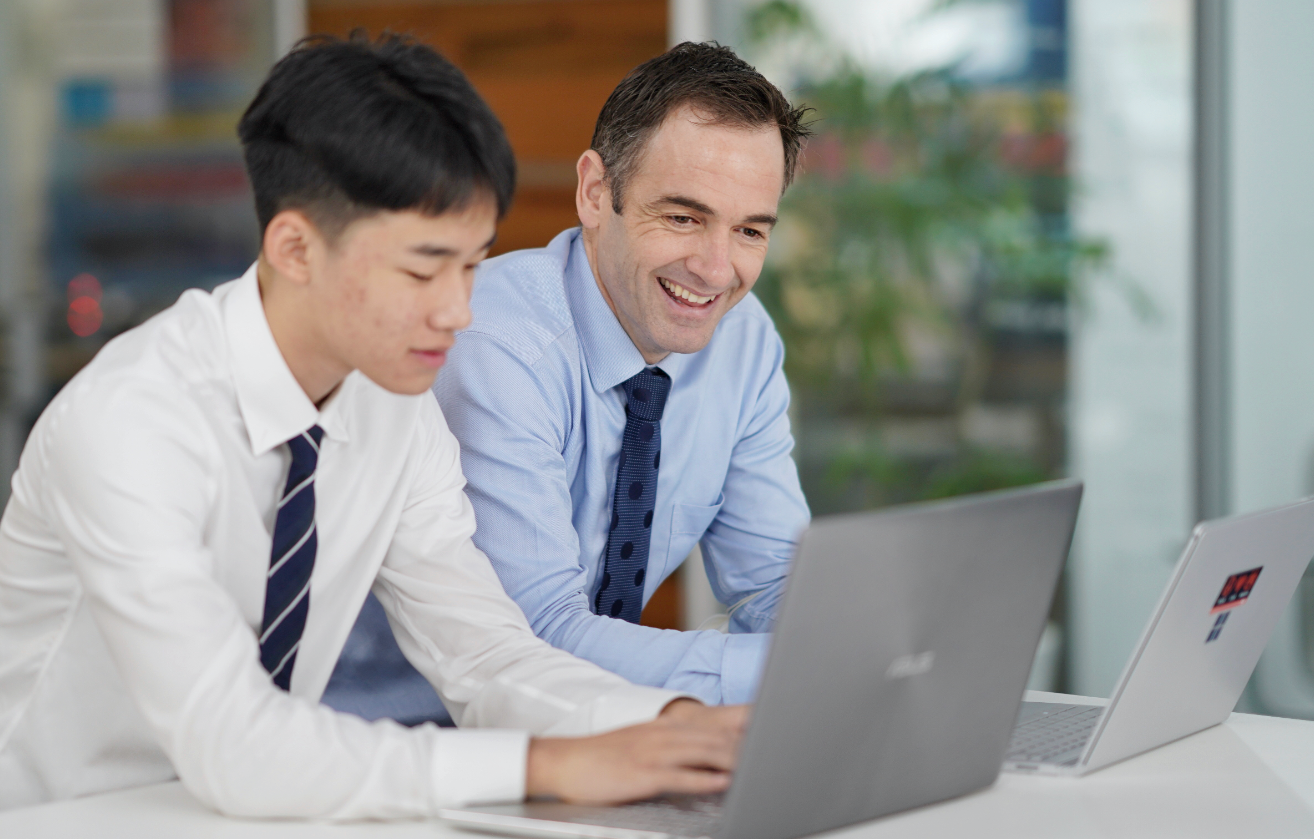 Mr. Phil Whitaker serves the whole College as Director of Educational Technology and Innovation. "A total of 16 workshops were offered, including one that was led by two Senior School Tech Ambassadors," he shared. "Everyone has strengths and interests in different areas; staff could select workshops to upskill. Training for new platforms, like Seesaw in the Junior School, were provided for all teachers who would be using the new platform. The feedback was very positive—we have a lot of in-house talent."
The Senior School student-led workshop titled, 'Ways We Like to Learn Online' gave teachers a chance to hear feedback from the online learning experiences of students during the last school year. "When we resumed classes last spring, I surveyed staff and students," recalls Mr. Whitaker. "I met with student focus groups in DUCKS, Junior School and Senior School to understand how they experienced online learning. At DCSPD, we never just settle. We pride ourselves on our agility and creativity to constantly adapt and improve no matter what the world throws at us." Input from students and staff has already been incorporated into streamlining the use of learning platforms in both the Junior School and Senior School, for example.
Student feedback also highlighted the importance of human connection and building community. Mr. Whitaker reflected, "I have heard people say that AI [artificial intelligence] will replace teachers one day. I don't think it is possible. In terms of teaching, the human element and connection is so important. There are academic and pastoral aspects to learning, and online learning. There cannot be academics if student wellbeing isn't right. We need to leverage technology to help with the wellbeing of students." One example that is being explored is the "reflect" feature in Microsoft Teams, which is a pulse survey used by teachers to check how students are feeling and responding, in real-time.
"I'm so proud of my colleagues. Everyone stepped up last year—including the students—and worked in new ways. It was a massive challenge. Every teacher can do something new with technology now, that they couldn't do in February," shared Mr. Whitaker. "There's buy-in for increasing EdTech engagement across the College. This is also credited to the amazing work of my colleague Ms. Ness Matthews who supports the day-to-day needs of teachers in a frontline role as EdTech Integrator."
And, what if the campus is locked down and DCSPD needs to resume online learning? "We are ready—but most importantly, students are better versed and practiced in synchronous and asynchronous learning. We already embrace Blended Learning and this continues to be a key focus for our staff and in the Professional Development programme this year. We are committed to providing the best learning experience for our students both on-campus and online," Mr. Whitaker confirmed.