Tim Parker | Instill a Life-long Love of Music

Tim Parker is Head of Instrumental Music Tuition at Dulwich Pudong, a position in which he is responsible for some 400 weekly individual music lessons.
Originally from Hythe, a small seaside town in England, he credits his musical interest to his father and grandfather, who was a music teacher.
My whole early schooling was something of a music lesson.
- Timothy Parker, Head of Instrumental Music
He began his formal musical journey at the age of 6 singing in the local church choir. He displayed great aptitude and, at the age of 9, was accepted to St Johns College Cambridge choir, one of the most prestigious choirs in the UK, one of only 16 choristers. There he studied under legendary conductor George Guest, participated in numerous recordings, radio and TV performances whilst also touring Europe and North America. Ultimately he became Head Chorister, where he had his first taste of musical leadership.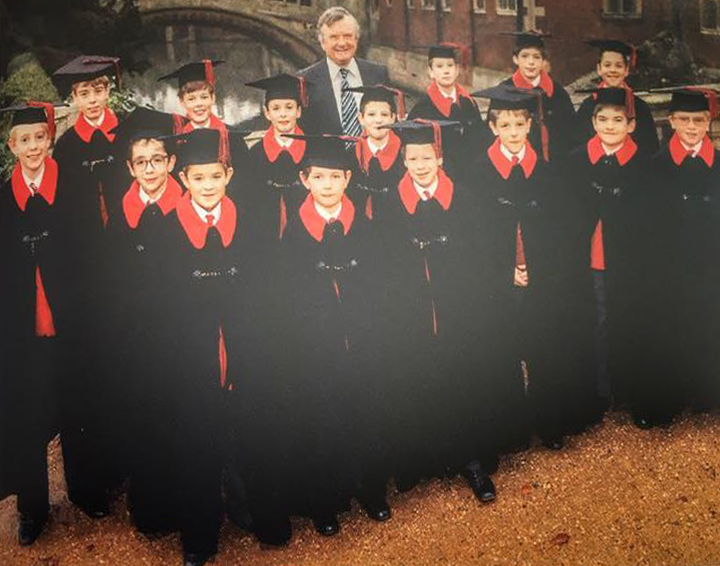 He went on to be a music scholar of St Edmunds school, Canterbury and then study music at the University of Leeds where he held a choral scholarship and directed the university chamber choir as well as holding the post of Senior Bass Layclerk at Leeds Minster.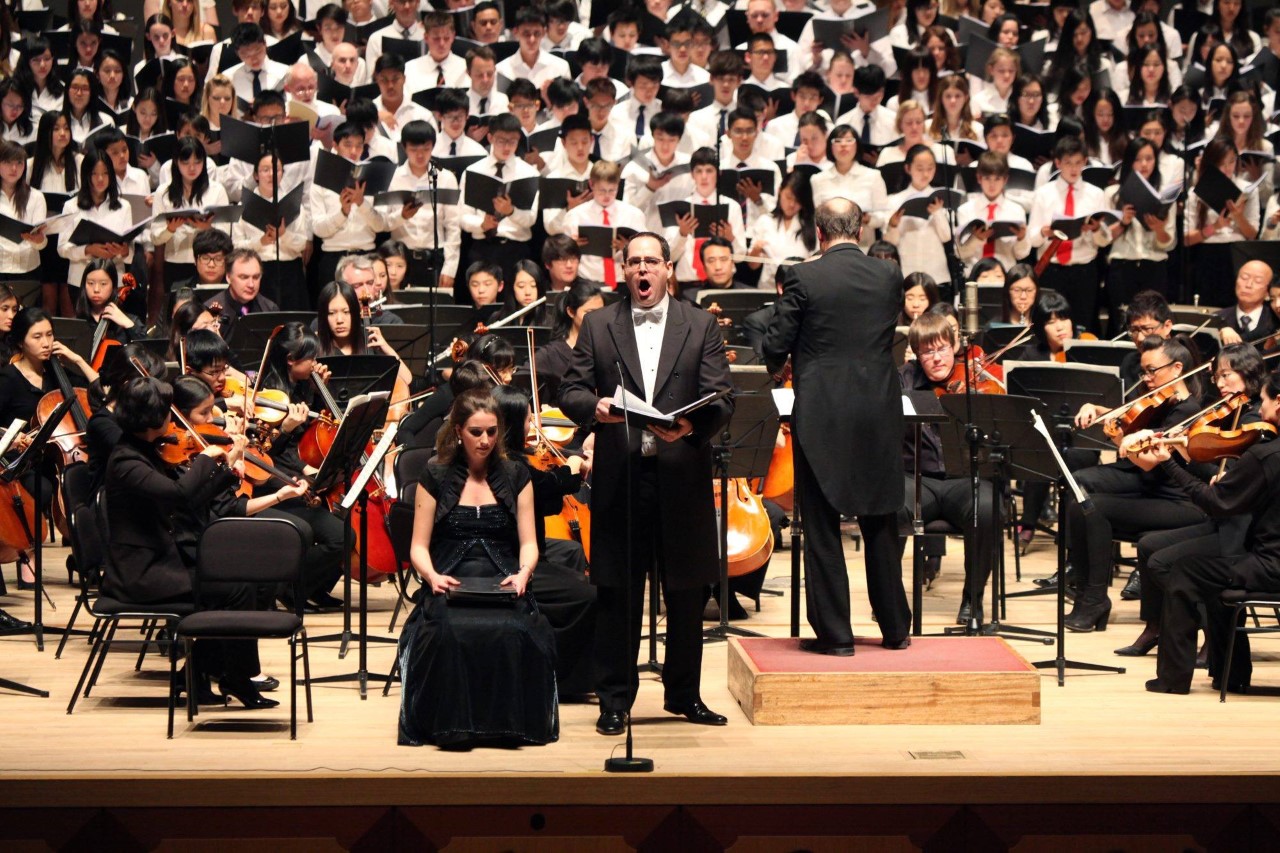 He obtained his teaching credentials in 1999 and taught at a number of secondary schools in England whilst maintaining a robust performing schedule. He has sung for many of the famous choirs of British cathedrals and churches including Canterbury Cathedral, St Brides Fleet Street, St Peters Eaton Square, All Saints Margaret Street, Holy Trinity Prince Consort Lane and from 2009 to 2011 was a Layclerk of Rochester Cathedral.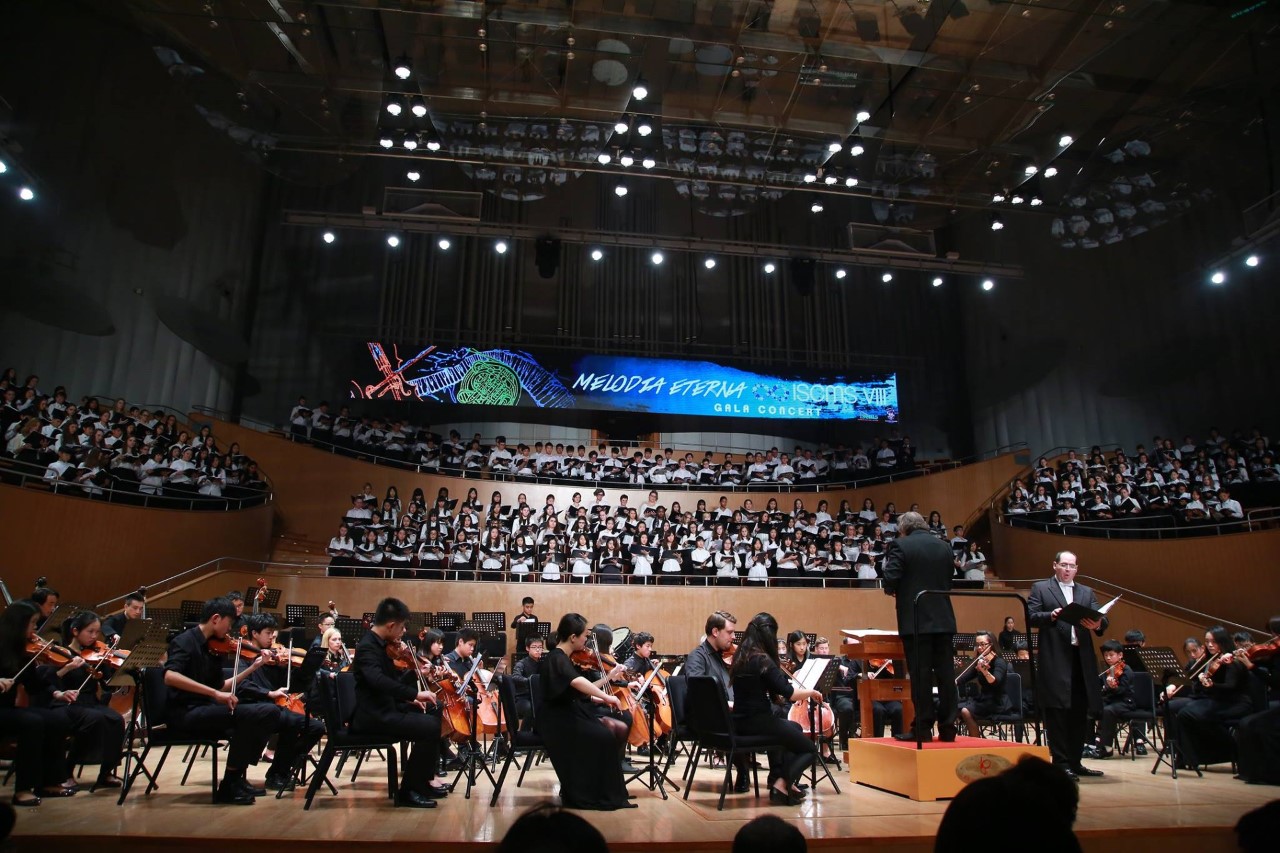 In 2011 he moved to Shanghai with his wife and joined Dulwich Pudong as a singing teacher and music teacher. "The first term I had 4 singing students, within the year I had 40," he recollects. Over the last decade there have been a number of personal performing highlights including:
Performing Highlights
Solo performer for Brahms "German Requiem" in Seoul for the ISCMS.
Solo performer for Haydn's "Nelson Mass" inside the Forbidden City also for ISCMS.
Solo performer for Philip Henderson's "17 poets" at the Shanghai Oriental Arts Center.
One of the more unusual highlights was the opportunity to conduct the Dulwich Choir made up of Dulwich students and staff who backed up the Rolling Stones at their 2014 Shanghai show. "It was astonishing!" says Tim. "When you heard them singing 'You Can't Always Get What You Want', that was us! And, yes, I got to shake Mick Jagger's hand."
More recently he worked with Australian composer and renowned musical educator Richard Gill to organise a "Big Sing" of Carl Orff's Carmina Burana in Shanghai. He also leads groups of Dulwich choristers to Vienna for the annual Vienna Choir tour where they work with the Vienna Boys Choir under the direction of Gerald Wirth.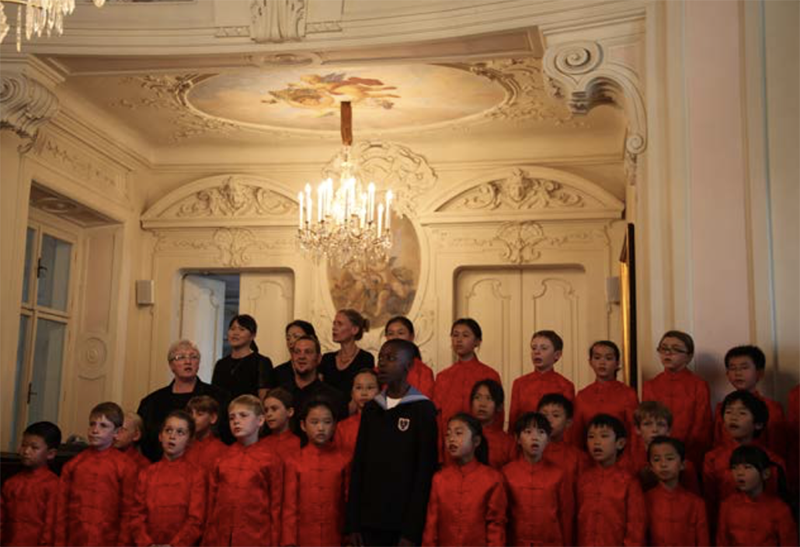 And in 2019 at St Stephen's Cathedral in Vienna he directed Dulwich choristers in an epic performance of Benjamin Britten's "War Requiem" in honor of the 100th anniversary of the ending of World War I.
Tim believes singing is very important to every child's musical development. His musical pedagogy borrows the best from established frameworks and owes quite a bit to the influence of Richard Gill and Gerald Wirth by incorporating physical movement. "Singing is internal, so it can seem like a mystery. I like to use real-world experiential learning, using physical movement to articulate a phrase or a style."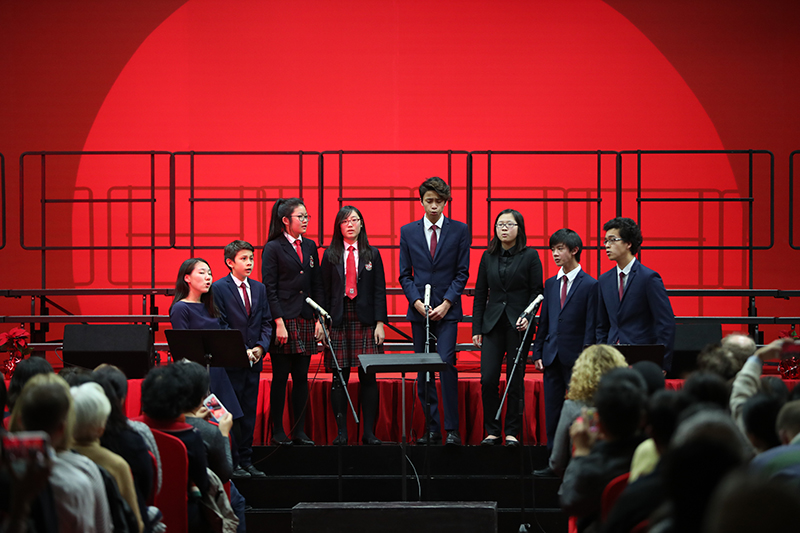 He also emphasizes the importance of learning creatively versus simple rote learning. Composing is a core component of the musical curriculum along with improvisation, both important ways for students to explore creativity. "I put sound ahead of notation," he says. "Some music teachers insist that you be able to read music before you make music. But to me this makes as much sense as insisting a child be able to read before talking."
Several of his students have gone on to professional musical careers and won prestigious awards. His goal for all students is to nurture and instill a life-long love of music.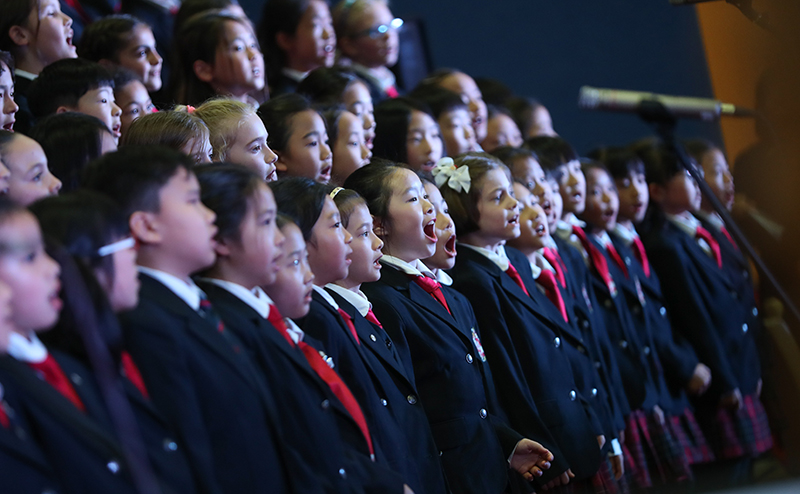 "I'd like people to see that music is not just something we do here at school but is something that engages the entire family," he says. To that end, he leads the Community Choir which comprises members from the entire Dulwich Pudong community - parents, and teachers. "One of my favorite things is to see parents and children performing together."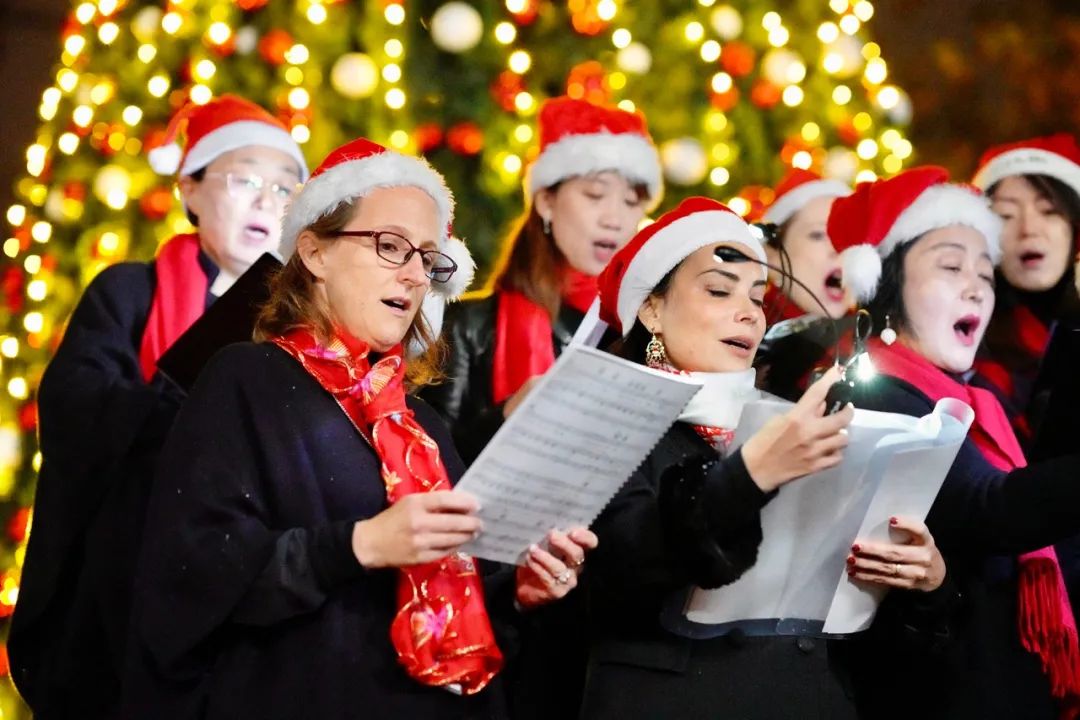 He concludes: "Music is what I do. I couldn't imagine my life without it and performance is what inspires me - the process of presenting work in front of an audience at a high level with a high degree of polish. I used to live for that moment myself; now I enjoy seeing the students do that, to be able to give them that opportunity. I love to see the light in their eyes."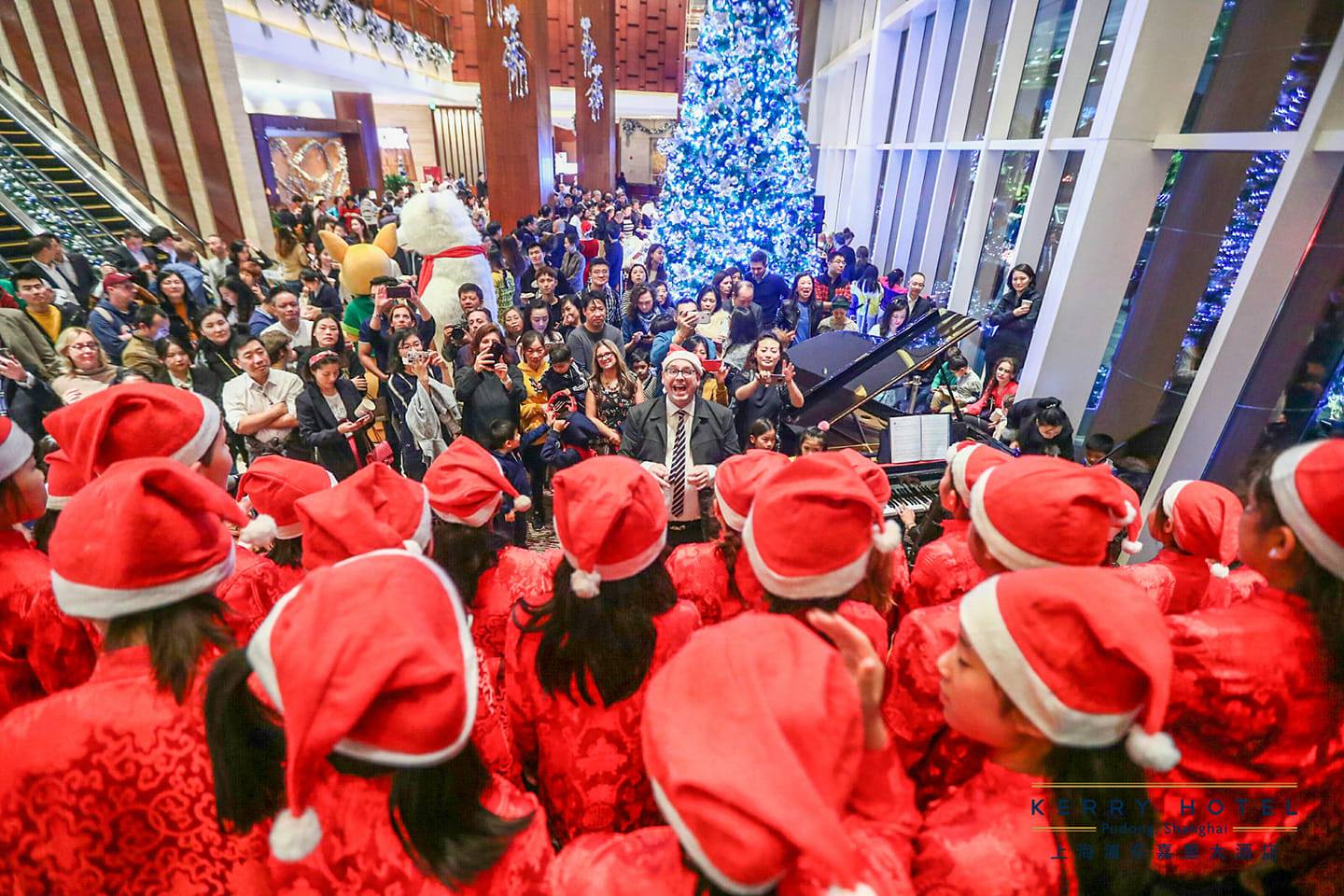 And what's on his Spotify these days?
"Sibelius, Shostokovic, Brahms, Herbert Howells - they all mean something to me. Each speaks to a certain period of my life. When I'm not listening to that, it's David Bowie and Pink Floyd."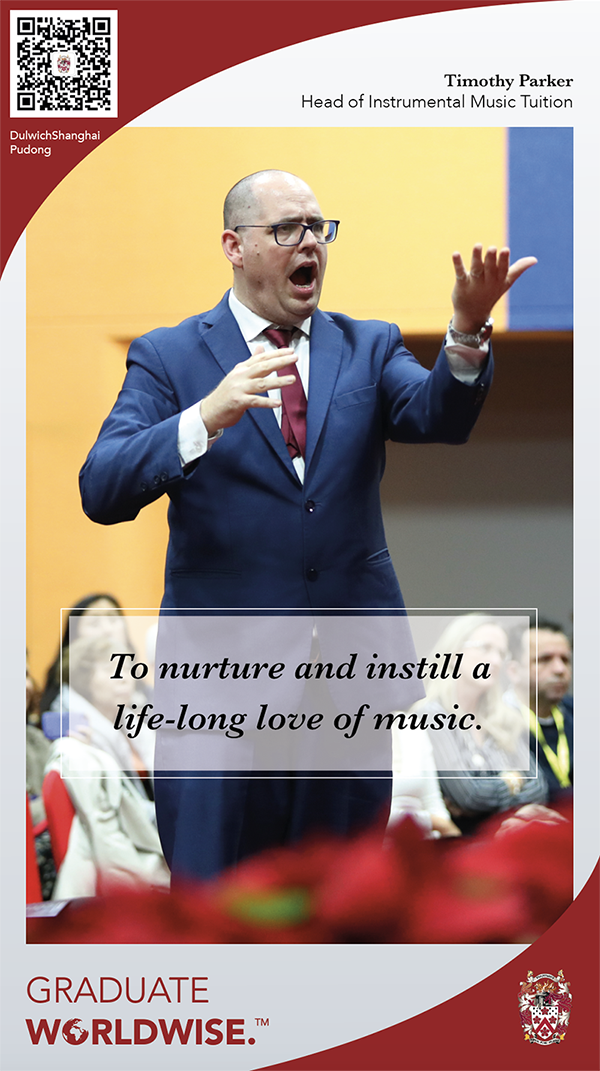 We are very lucky to have such an accomplished performer and dedicated teacher leading our students to lift their voices.