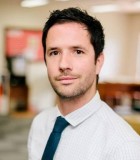 Chris Bonnet
Year 3 Teacher
Dulwich College Seoul
What attracted you to Dulwich College Seoul? Do you expect to be here for a while? Are you interested in moving within the group to further your career?
When originally applying for positions abroad, I was intent on looking for the right school in the right city for me. The name Dulwich College is synonymous with academic achievement and when I saw that there was an opening in Seoul, I jumped at the chance to apply. When I first arrived, I was made to feel welcome by both the staff here and the people of Korea. When starting work for a DCI school, one automatically feels part of a wider organisation. We are privileged here to be part of such a large and successful network of schools and I would relish any opportunity that was offered to me within the Dulwich group.
How do you find the atmosphere among the teachers in the school? How involved are you with colleagues in other DCI schools?
Since arriving at Dulwich College Seoul, I have made a fantastic group of friends. The staff play football on a Friday afternoon and we regularly go on skiing trips together in the winter. I have found linking up with other DCI schools very easy. As the KS2 Student Council Co-ordinator here, I have linked up with my counterparts in both Beijing and Shanghai. The staff here are very helpful and will always point you in the right direction when you are looking for something or need help.
How do you find student engagement in the school?
Student engagement is very high here. The children are very enthusiastic about their CCAs and most sign up to at least two a week. I have been very impressed with how keen the children are to enter different competitions as a way to show off their work. I run the Student Council CCA and have been extremely impressed by the commitment of the children to a number of causes close to their hearts. The children behave outstandingly in lessons, remaining focused and enjoying the tasks set. They also regularly hand in their homework on time.
How much interaction do you have with parents?
The parents in school are very friendly and always willing to help a hand. They are very supportive of what we do here and will always thank you on a job well done. The Friends of Dulwich (FOD) are an incredible group who work around the clock to organise events for the school.
Is there anything you didn't discuss in your interviews, but wished you had known before you joined Dulwich?
To be honest, I wish I asked more about living in Seoul. I thought researching the city on the internet was enough but it really didn't do it justice. From the delicious food to world class (and cheap!) transportation networks, Seoul has to be one of the easiest cities to live in in Asia. It is incredibly easy to live in as an expat with all signs and menus containing an English alternative. And Korean isn't as hard to learn as I expected and, with the help of some of the Korean speaking staff, I can already read Hangul and speak basic sentences.
Do you think there is anything different about working for Dulwich compared to other schools you have worked in? Has Dulwich lived up to your expectations?
Dulwich has gone beyond my expectations. One thing I have noticed about working here is how friendly all the staff are. Everyone is always happy to help, regardless of what is being asked. I have never worked at a school which is so passionate and committed to sport. The PE department is fantastic and we regularly go on trips to play other International schools in and around Korea. I have been lucky enough to go on a trip to China and visit Dulwich College Suzhou for the Dulwich Games.
How involved are you in co-curricular activities? Which ones do you do?
I have been lucky enough to be involved in the U11's football squads and regularly enjoy taking the children out to tournaments around Korea and beyond. I also link up with the Senior School, started a climbing CCA, and work with the KS2 Student Council.
Is there an opportunity to introduce your ideas into the school?
Dulwich College Seoul is a fantastic place to introduce new ideas and take risks. Since I started here, I have developed the outside climbing wall, introduced a friendship bench and also organised trips for the Student Council.
The College also offers wonderful CPD opportunities and the leadership will always be willing to listen to ideas on how we can all progress professionally.
How do you find living in Seoul?
Having lived in both London and Sydney, I was pleasantly surprised at how much Seoul has to offer in comparison. The city is very lively with some fantastic restaurants to visit in the Sinsa, Hongdae and Gangnam areas. As someone who is very active, I have found Seoul to be an amazing place to try new things. Since I started, I have attempted paragliding and mountain biking and I now regularly go rock climbing after school. The city is also extremely close to some very good ski slopes.
---