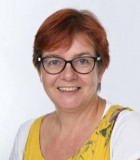 Maria Jenkins
Head of Art
Dulwich College (Singapore)
What attracted you to Dulwich College (Singapore) Do you expect to be here for a while? Are you interested in moving within the group to further your career?
I spent 20 years at Dulwich College before I applied to work in Singapore. Many of my colleagues thought that I was insane to leave London, but to me the idea of starting a new department and being part of the network of international Dulwich Colleges was really exciting. The timing was ideal as my daughter was moving from Junior School to Senior School and this was a logical time for her to move. Having seen and helped Dulwich College (Singapore) open its doors, I plan to stay and see my department through at least its first full cohort. The school and its students feel very special to me.
How do you find the atmosphere among the teachers in the school? How involved are you with colleagues in other DCI schools?
The staff at Dulwich College (Singapore) are a delight to work with and I know that we all feel a strong bond and are privileged to be part of the school's evolution. I also have strong connections to other DCI teachers, and we meet regularly at DCI Art conferences and willingly share resources. When I was the only teacher in the Art Department this sharing of ideas was a particularly valuable source of support.
Do you think there is anything different about working for a DCI school compared to other schools you have worked in?
Of course there are many differences between the College in London and Dulwich College (Singapore), not least the fact that this is a mixed school. The vision and values are, however, the same, and parents and students alike constantly demonstrate that they truly value being a part of the Dulwich community.
How do you find living in Singapore?
Living in Singapore has been a fantastic experience - I feel particularly pleased that my daughter is able to enjoy a level of independence that I simply don't think would have been possible if we had stayed in London. We have also loved the amazing travel opportunities that Singapore makes available to us both within the Dulwich network and also on family holidays. I have not regretted my 'insane' decision for a moment!
---