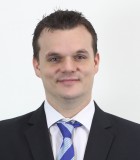 Simon Oakley
Deputy Director
Dulwich International High School Zhuhai
What attracted you to Dulwich International High School Zhuhai? Do you expect to be here for a while? Are you interested in moving within the group to further your career?
Dulwich has a strong reputation in both the UK and around the world and this is what first attracted me to the group and to the international High School in Zhuhai. Having previously taught Years 7-13, I was really interested in the possibility of focusing on the High School age range. I moved to Zhuhai with my girlfriend, now my wife, in 2012. We were expecting to stay for around three years but we have enjoyed the experience so much that we are now in our fifth year here. If we decide to leave Dulwich International High School Zhuhai, moving elsewhere in the organisation is something that we would seriously consider.
How do you find the atmosphere among the teachers in the school? How involved are you with colleagues in other DCI schools?
One advantage of being a small school is that all the teachers know each other. This means we can share ideas and support each other more easily. There is a very positive atmosphere amongst staff here and a real sense of trust - we all know that we are working in the best interests of our students. We have also developed a collegiality across the school with a focus on the best practices for teaching and learning for our predominantly Chinese students.
We are involved with other Dulwich College International schools in many different ways, particularly with regards to student activities and group wide teaching and learning initiatives. For students this involves sporting activities, drama productions including the annual Shakespeare festival and academic competitions such as the High School Team Maths
Challenge. We have network wide subject conferences for areas such as art, Chinese and music. Earlier this year, I visited Shanghai twice for professional learning opportunities at the other Colleges. I attended a conference on educational leadership and developing a professional culture hosted at Dulwich College Shanghai in Pudong. More recently I visited Dulwich College Shanghai Puxi to learn more about best practices in for data management and the use of technology from across the group. I found both experiences to be valuable to both my own professional development and the growth of our school.
How do you find student engagement in the school?
Our students are very engaged in both their academic study and in the co-curricular opportunities on offer at school. I know that working with such dedicated students inspires and motivates teachers at our school. Members of staff here know how lucky they are to work with students who perform so well academically, both in terms of their in-class contribution and the results they achieve.
How much interaction do you have with parents?
I try to give as much information as I can to the parents of the students we teach. This is particularly important because the international version of the British syllabus we follow is very different to what the parents of our students would have followed. The majority of our parents do not have a strong grasp of English so this makes communication more challenging compared to when I taught in London. This means that as a school we have really thought about how we pass on information effectively to parents.
Do you think there is anything different about working for a DCI school compared to other schools you have worked in?
I have been privileged to work with fantastic students and inspirational colleagues in every school that I have taught in. However working in a Dulwich College International school has been a completely different experience. Firstly, the students are so engaged, driven and determined to succeed that it makes teaching a pleasure rather than a job. This school trusts their staff to work effectively and this, combined with the high calibre of my colleagues, has meant that I have been able to grow professionally during my time here.
How involved are you in co-curricular activities? Which ones do you do?
I have been involved with football, running and our maths club. I have been most active in leading and supporting others in organising trips across China. We have led student excursions to Sanya, Yangshuo and Hong Kong.
How do you find living in Zhuhai?
Whilst a city of around 1.4 million is unlikely to be referred to as a village in many western countries, that is how many people who live in China would describe Zhuhai. I feel as though I have the best of both worlds. I live in high quality spacious accommodation in a quiet location about five minutes' walk from the school. There are plenty of good quality Asian and Western restaurants within walking distance or a very short taxi journey. I live next to two swimming pools and a gym and there are astroturf football pitches a 10-minute walk away. Zhuhai is also a great location for day or weekend trips away. It is very easy to get to Macau, Hong Kong, Guangzhou and Shenzhen.
---